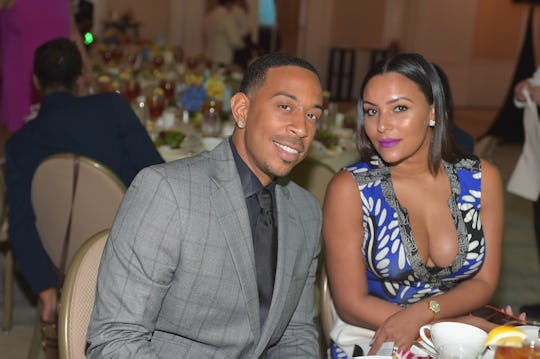 Moses Robinson/Getty Images Entertainment/Getty Images
Who Is Ludacris Married To? His Wife Founded Her Own Nonprofit
Ludacris is gearing up to host the Billboard Music Awards this weekend. On Sunday, the rapper will step onstage for the third year in a row to honor this year's chart-topping artists. Though Ciara will be his co-host, it's likely viewers will see him walk the red carpet with his wife. Who is Ludacris married to? Eudoxie Bridges is a nonprofit founder on a serious mission to advocate for women.
Back in 2014, Ludacris surprised fans by marrying Bridges before the new year, according to E! News. The two started dating in 2009, but he popped the question five years later while on a Costa Rica trip, Billboard reported. While on a flight, the couple passed over a field featuring the message "Eudoxie will you marry me." Bridges posted a collage of photos from Ludacris' plane proposal to Instagram with the caption, "BEST DAY OF MY LIFE WITH THE LOVE OF MY LIFE!!!" Shortly after the proposal, Ludacris announced their marriage on Instagram, according to E! News. The rapper captioned a photo, "Why wait? Did the thing before 2015. #mrandmrsrbridges."
In 2015, Ludacris and Bridges had a baby, and Bridges' birth announcement appeared on Instagram, according to MTV. She posted a photo of a balloon with the words "baby girl" and captioned the image, "She is here #blessed #grateful." The couple named their daughter Cadence Gaëlle Bridges, according to E! News. Ludacris has two other children, Cai and Karma, according to MTV.
Bridges is the founder of the Unspoken Angels organization dedicated to helping young women affected by "verbal, mental and sexual" abuse. As a child growing up in West Central Africa, Bridges endured abuse before arriving in America. Now, she works through her organization to help young women in the United States and West Africa heal, build financial independence, and grow their self-esteem.
On Sunday, fans will hope to spot Bridges in one of her seriously glamorous red carpet looks. The Billboard Music Awards will air on ABC at 8 p.m. Eastern Time. It'll be Ludacris' second year with a cohost, according to Billboard. He cohosted with model Chrissy Teigen last year. Now, he gets to share the stage with a collaborator. Speaking about Ciara, Ludacris told Billboard:
The ­chemistry is already there. I told her we have to make the awards our own. When you're hosting, the whole thing goes by so fast, you have to hold off from having too much fun or you'll get distracted.
Hopefully he and Bridges will have plenty of time to celebrate together after the show is over!