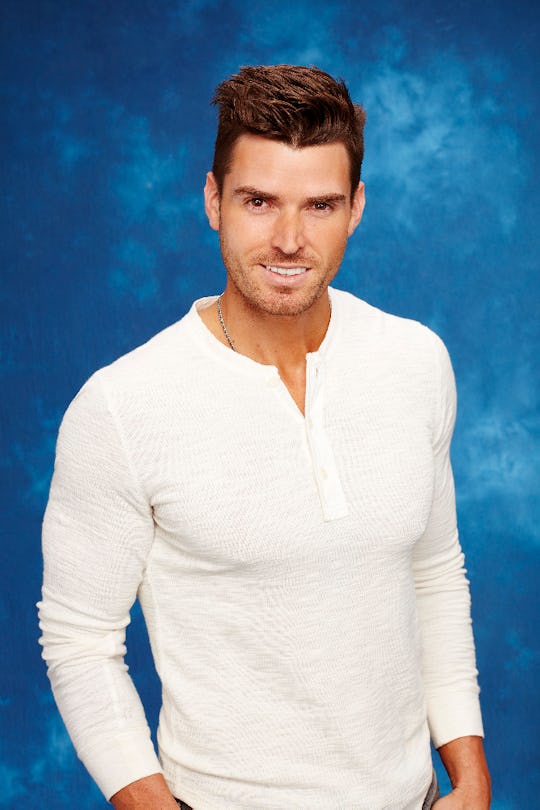 ABC/Craig Sjodin
Who Is Luke Pell? The 'Bachelorette' Contestant Is A Fan Favorite To Win JoJo's Heart
And now it begins. ABC just released bios of the 26 men who will compete for JoJo Fletcher's heart in the upcoming season of The Bachelorette, which premieres on May 23, and one contestant has already caught fans' eyes. The show hasn't even begun but fans have already singled out Luke Pell as the one to watch. If you are curious about this brown-eyed boy, here is a look at who Bachelorette contestant Luke Pell is and why he's already stealing hearts.
Not only is Luke Pell handsome, the 31-year-old's listed occupation on the show's website is "War Veteran." According to his LinkedIn profile, not only did Pell serve in the military for five years, he attended West Point, the prestigious army college, studying sociology and engineering, before graduating in 2007. The 6' 1" Texas-native served as an U.S. Army officer and member of the 101st Airborne in Afghanistan, honing his skills as "a platoon leader, fire direction officer, fire support officer and finally as a battalion operations officer," before leaving active duty as a Captain in 2012.
His leadership skills from his time in the Army must have followed him because he considers himself a "party-starter" rather than the "wingman" or "laid back" type in his Bachelorette bio. He claims he would "do anything for love" in the bio, saying, "I'm a trooper/team player." Another trait he built up while serving in the military.
The Bachelorette contestant considers competence, patience, and empathy to be his three best attributes (always a plus when searching for a life partner). He hates it when dates are indecisive, talk about their exes, or name drop. His favorite movies are Lonesome Dove, Forrest Gump, and Step Brothers and if he could be any superhero he would be Superman because, and I quote, "he's got swag and powers." No arguments here.
Pell's spent some time in Nashville, Tennessee which makes sense because he is working on jumpstarting his country music career. The singer's band recently performed in Austin during South By Southwest. You can listen to some of Luke Pell's music here or purchase a few of his singles on iTunes.
Although he is working at being a rock star, it doesn't seem like he's into that lifestyle. Based on his Bachelorette profile (so take it with a grain of salt, guys), Pell is looking to settle down. When asked what being married means to him, he said, "It means two people, who consider themselves best friends, lovers, and soulmates, decide to take on life together and build a life and family of their own."
Pell was born in Texas, which is another pro for Bachelorette fans, since JoJo Fletcher runs her real estate business in the Lone Star state. Based on his Twitter, Pell certainly seems to be a country boy — he hunts, wears camo, and fishes — so I'm sure viewers will be excited to see how he clicks with the Bachelorette.
Based on some Twitter spoilers from gossip site Reality Steve, that won't be an issue. According to pictures and video the outlet posted on Twitter, Pell and Fletcher had at least one sexy one-on-one date where the country crooner danced with the girl in hopes of getting a rose. Spoiler: They also kiss in the video.
Bachelorette star Chris Harrison even called Pell, "one of [his] favorite guys this season," in an interview with Yahoo. "I am a sucker for people who serve," he divulged. "He was a platoon leader in the Afghan war and he also has the ridiculous Hollywood leading man good looks." The host of the long-running matchmaking show continued, saying,
He is smart, kind and charming. He is the whole package. He is a Texas boy, so he and JoJo have that in common. He really fits for JoJo.
There are even rumors floating around that Pell may be in Fletcher's final four. Harrison cautions that all those pros may not add up to a spark in person. Pell, he warns, "might be too perfect on paper but not add up in real life."
Even if there isn't a happily ever after in the cards for Fletcher and Pell, fans are already speculating if he doesn't earn the final rose this season, Pell is a great choice to be the lead on the next season of The Bachelor. He certainly has the compelling back story combined with boyish good looks part down.