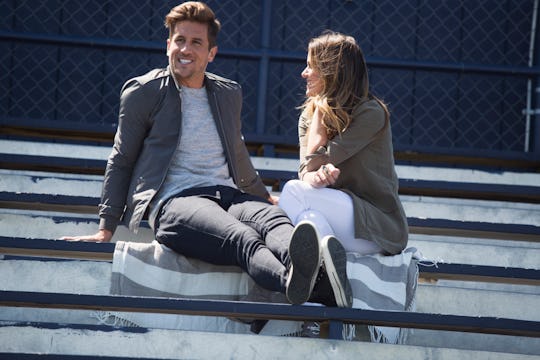 Carl Costas/ABC
Who Is Luke Rodgers? The 'Bachelorette' Brother Is A Sports Fan
The Rodgers brothers have been getting a lot of attention on The Bachelorette recently – specifically Jordan and his football star brother Aaron, who no longer speak. Jordan recently confessed about their tense relationship to JoJo, who sadly accepted that she will never get to be gal pals with Olivia Munn. However, even though Jordan isn't close with one of his brothers, he's super close with the other: non-football playing Luke. But who is Luke Rodgers?
Luke is the oldest of the three brothers and the only one not to attempt a career in sports, though he's still a big sports fan who considers himself an athlete (just not a professional one, I assume). Luke and Jordan are super close, constantly popping up on each other's social media, but Luke doesn't appear to speak to Aaron either despite being very close to him in age; they're only nineteen months apart. In past interviews, he's spoken about how competitive things were between the brothers, so perhaps that has kept them from keeping things friendly in the wake of Aaron's immense success.
Meanwhile, Luke works in sports-adjacent fields, founding the sports merchandise company Pro Merch with a friend. Though the site no longer seems to be up and running, it looks like they still sell products at Target. And like his brothers, Luke has also spent some time in front of the cameras.
Though Luke isn't likely to join a pro team or become a Bachelor any time soon, he does have some experience with being in the public eye. He appeared on the short lived reality show Clean Break, which aired on Fuel TV and followed a group of men sent to Hawaii to try their best at some extreme sports. Challenges included surfing, jumping out of planes, and diving with sharks. It sounds pretty hardcore. Luke has also contributed to 247sports as an NFL Insider, even giving some tough critique of one of Aaron's games. Those Rodgers brothers really do seem to be hard on each other.
When Luke isn't busy working or hanging with his best bro Jordan, he spends time with his girlfriend Lindsay Davis and his adorable French bulldog Carl Weathers. Luke seems to be seriously smitten with Lindsay, a model and former Miss Ohio 2011; most of his posts about her border on gushing. The couple look like they're very happy together.
Maybe their love will be inspiring to JoJo and Jordan on that hometown visit.