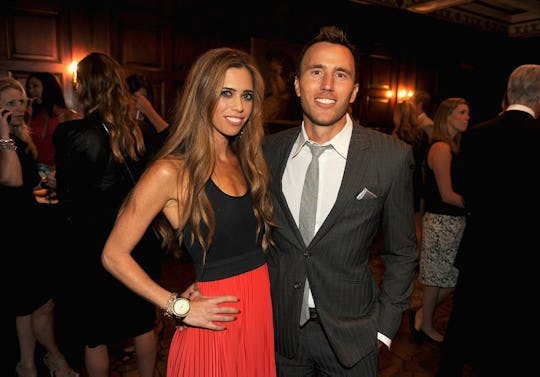 Kevin Winter/Getty Images Entertainment/Getty Images
'RHOC' Fans Will Love Lydia McLaughlin's Husband
Everyone, the Real Housewives of Orange County are back, and producers seem determined to shake things up this season. Prepare to see some new faces and some familiar faces and to be quite honest some faces I hoped I wouldn't have to see again. This time, Lydia McLaughlin and her family are back after three years. But who is Lydia McLaughlin's husband Doug on RHOC? Basically, in the simplest possible terms, he's a hottie with a new magazine that you should probably check out.
Lydia's stated reason for leaving the show after just one season was that "God was calling [her] to walk away from the show." Apparently that has all changed for the McLaughlins, though, especially considering Lydia is bringing her Bible study friend Peggy Sulahian into the fold.
Lydia and her husband Doug have started a luxury menswear magazine called Nobleman. From the site's website:
NOBLEMAN is a magazine designed for the gentlemanly alpha male, the leading man who is confident, capable and truly appreciates the finer things in life. He is not one to beat his own chest; the NOBLEMAN is humble despite his great achievements, and always eager to discover and learn. He possesses his own individual style, but also endeavors to keep up with ever-changing fashion trends; however, he is never a fashion victim.
Personally, I'm not entirely sure that the "Nobleman" is my cup of tea, but hey, if that works for them, who am I to judge? The Nobleman website features sections dedicated to luxury events, sleek architectural design, and the most incredible travel destinations that mere mortals will never be able to afford. The Eat + Drink section features advice on how to "Drink Like a Gentleman," with fancy cocktail recipes. Basically, this is the men's version of Goop.
From Doug's Instagram, however, fans get a slightly toned down version of the "Nobleman." He appears to be a loving husband and doting father to the couple's three young boys.
He also appears to be extremely good-looking.
Need I say more?
I don't know how much Doug will be appearing on this season of The Real Housewives of Orange County, but something tells me that viewers are going to be hearing quite a bit about this new publishing venture called Nobleman. And if anyone is equipped to show the rest of the country "how the other half lives" it's the stars of the Real Housewives franchise.