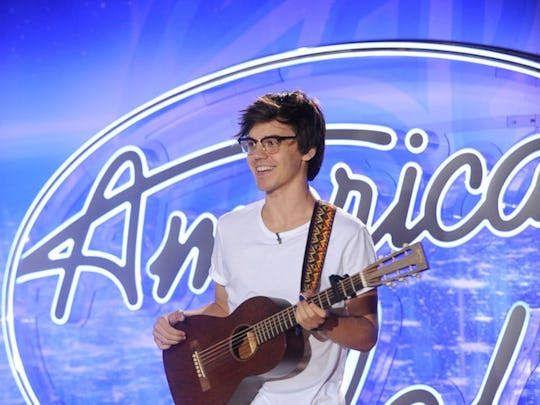 Craig Blankenhorn/FOX
Who Is MacKenzie Bourg? You May Have Seen The 'American Idol' Contestant Before
The best part of American Idol might be the initial auditions for each season, because there's always a good surprise. On Wednesday, the big surprise was ex-The Voice contestant MacKenzie Bourg, who managed to make it onto Idol's last season. Reality competition shows, especially ones that have as long as Idol eventually start to recycle contestants – it's a sweet mix of being super talented and knowing how to woo the producers and judges of the shows. So now that he's back on the small screen, who exactly is MacKenzie Bourg and what do we already know about him?
Bourg has had a pretty large following since his appearance on season three of The Voice. During his audition, Bourg gave with a harrowing personal account of a virus that shut dow his organs before performing The Fosters' "Pumped Up Kicks" to great acclaim. Sadly, Bourg was eliminated during the live playoffs early in the season.
But the singer had enough talent to get Voice judge Adam Levine to call him "an American Idol" and it seems as if Bourg took that advice to heart. On Wednesday, he tried out for the final Idol season with a medley of songs by all of the judges. The 23-year-old wooed the judges first by telling Harry Connick Jr. that they shared a birthday and a hometown — they're both from Lafayette, Louisiana — before then singing Keith Urban's "Stupid Boy, Jennifer Lopez's "Love Don't Cost A Thing," and Connick's "Come By Me."
It was a smart move, if only because he most definitely has his own style. Like in The Voice, Bourg didn't try to actually be any of the judges when performing their songs, opting instead to give them his own unique spin. Actually, they sort of blended nicely together. The strategy could have easily backfired (you don't want to mess with egos, right?), but he managed to make it through to the Hollywood round thanks to his raw talent.
Bourg was all over social media in the run up to his auditions, attempting to win Idol fans' hearts, too.
Since his time on The Voice, Bourg has released his own single called "Everyone's Got a Story," which made it onto the iTunes pop charts when it was first released last year. Whether or not he makes it to the top during his second reality show's final season is still yet to be seen, but even if he doesn't, it seems his career is beginning to take off anyway.
Is it too early to pick favorites? Because it looks like Bourg might have the voice — and the charisma — to get very, very far this year. Cross your fingers.
Image: Craig Blankenhorn/FOX; YouTube