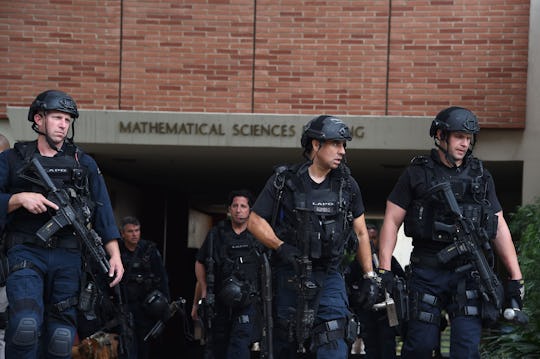 ROBYN BECK/AFP/Getty Images
Who is Mainak Sarkar? The UCLA Shooter Was A Doctoral Student
The shooter at the University of California Los Angeles has been identified as Mainak Sarkar. Who is Mainak Sarkar? He was a former doctoral student who had accused Professor William Klug of stealing his work. On Wednesday, he returned to UCLA, shot and killed that professor, then killed himself in an engineering building on campus.
According to the Los Angeles Times, Sarkar had not been quiet about his dislike of Klug. He was open about his complaints on social media, writing on March 10:
William Klug, UCLA professor is not the kind of person when you think of a professor. He is a very sick person. I urge every new student coming to UCLA to stay away from this guy. He made me really sick. Your enemy is my enemy. But your friend can do a lot more harm. Be careful about whom you trust.
Despite these accusations of being a "very sick person," Klug had a good reputation among colleagues and friends. He was an associate professor of mechanical and aerospace engineering known for his dedication to his students. Allegedly, Klug was especially generous to Sarkar himself. Sarkar even thanked him in his doctoral dissertation, which was completed in 2013. He wrote, "Thank you for being my mentor." Prior to that, Sarkar had been a graduate teaching assistant in one of Klug's courses, and throughout his dissertation process, Klug acted as his advisor.
According to Sarkar's LinkedIn page, he came to UCLA with a master's degree from Stanford University and a bachelor's degree in engineering from the Inidan Institute of Technology in Kharagpur. After graduating with his doctorate, Sarkar worked for a rubber company called Endurica LLC. Though the company is based in Ohio, Sarkar worked remotely, rarely visiting the site. His employer, William Mars, gave Sarkar a recommendation on his page. He wrote:
Mainak is a steady contributor with solid technical skills in FEA and software development. I appreciate the quality of his work, and his careful approach to new problems. He has worked for Endurica in an off-site situation requiring great trust and independence, and he has performed well under those conditions.
Shortly after UCLA entered its lockdown procedures on Wednesday, law enforcement officials announced that Sarkar and Klug were found dead in an engineering building, but their names were not released till the following day. According to a UCLA press release, engineering classes will not resume until the on-scene investigation is complete.
Chancellor Gene Block addressed the tragic shooting in an email to the entire UCLA community. He wrote, "Our hearts are heavy this evening as our campus family mourns the sudden and tragic deaths of two people on our campus earlier today. The thoughts and prayers of our entire UCLA family are with the victims' families and the students, faculty and staff of UCLA Engineering."