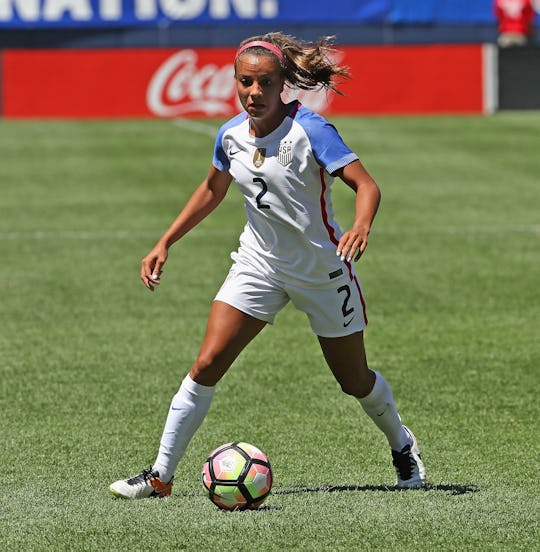 Jonathan Daniel/Getty Images Sport/Getty Images
Who is Mallory Pugh? She's the New Face Of Women's Soccer
The United States Women's National Team (USWNT) suffered a disappointing tie against Colombia in the group stage of the 2016 Olympic games in Rio the other night. The United States allowed Colombia to score a buzzer beater goal in the 90th minute of the competition. Most of the attention surrounding the power house powerhouse USWNT throughout the Olympics has been on goalkeeper Hope Solo due to her controversy surrounding the Zika virus. After an impressive Olympics debut, though, many soccer fans have been asking "Who is Mallory Pugh?"
Mallory Pugh is an 18-year-old from Colorado. 2016 was a big year for Pugh. She attended her senior prom, graduated high school, and was selected to join the 18-person USWNT team that would compete in the 2016 summer Olympic Games. Pugh is the second youngest American soccer player to be selected for an Olympic roster. Cindy Parlow was just one month younger than Pugh when she was selected for the 1996 Olympic team. You might think Pugh would be nervous competing with the team and defending the gold medal, but you'd never be able to tell with the tenacity she brings to the field. The 18-year-old phenom scored her first Olympic goal in the tie against Colombia. You know, no big deal.
Pugh is the second youngest American player ever to travel to the Olympics, just one month older than Cindy Parlow was in 1996 when the U.S. won gold in Atlanta.
Pugh made a name for herself on the U-20 national team. Jill Ellis, head coach of the senior squad, took notice of the dominant young player and pulled her up to play with the women less than two years after her U-20 debut. Pugh had her first cap on Jan. 23rd, 2016 and did what she does best: She took to the field with fierce determination and scored at the 25 minute mark. Once the ball hit the back of the net, Pugh became the sixth youngest goal scorer in the history of U.S. soccer.
There's a shift happening within the USWNT. Veteran players such as Abby Wambach, Shannon Boxx, and Heather O'Reilly are no longer at the center of the United State's roster. These players were integral parts of the 2012 gold medal team at the London Olympics and helped the squad to another World Cup victory. The USWNT is without a doubt the best women's soccer team in the world, however, it's never easy to lose valued players. The roster put together for these Olympic Games is the first step taken in establishing the future of the USWNT.
Pugh represents the next wave of women's soccer in America. If her Olympic debut is any indication of what's next for the team, then the future definitely looks bright. Pugh is one to watch not only during the Olympic games, but in the years to come as part of the USWNT.