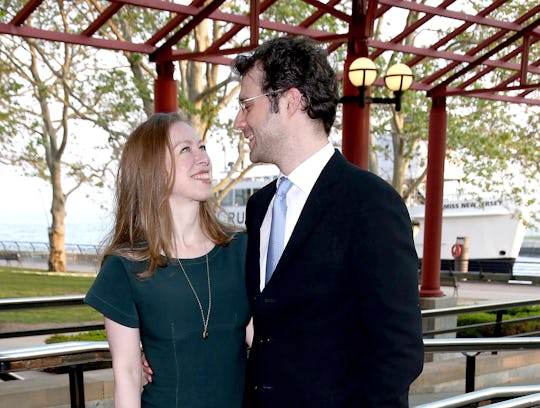 Paul Zimmerman/Getty Images Entertainment/Getty Images
Who Is Marc Mezvinsky? Chelsea Clinton's Husband Also Comes From A Political Family
Chelsea Clinton may have been a young teen when her father, former president Bill Clinton, took office, but now, as a married mother of one (with another on the way), she's carved out her own place in public life. Clinton is currently the Vice Chair of the Clinton Foundation and is also busy campaigning for her mother's presidential bid. But, although many people know a fair bit about Clinton professionally, she's far more guarded about her personal life, and she and her husband seem to prefer to keep their relationship out of the spotlight. So who is Marc Mezvinsky, aka Mr. Chelsea Clinton? Like Clinton, Mezvinsky is also from a political family — although one decidedly less high-profile.
According to People, Mezvinsky's parents are Ed Mezvinsky and Marjorie Margolies-Mezvinsky, both former U.S. members of Congress. And it sounds like the two families have long been aligned politically: Margolies-Mezvinsky was the deciding vote in favor of Bill Clinton's controversial tax bill in 1993 — a favor which, according to ABC News, likely cost Margolies-Mezvinsky her re-election bid in 1994.
But, just as their parents' friendship goes way back, so does Clinton's and Mezvinsky's. According to Us Weekly, the couple wed in 2010 in Rhinebeck, New York after five years of dating, but they'd actually first met much earlier, as teenagers in 1993. In fact, Mezvinsky reportedly convinced Clinton to attend Stanford University, having shown her around when she was touring colleges (cuuuuute).
But the two share more in common than their parents' fields of work: it turns out that they both grew up in families plagued by scandal. Clinton, of course, had to endure her father's embarrassing sex scandal while in office, while Mezvinsky's father, Ed Mezvinsky, was arrested and charged in 2002 after defrauding family and friends out of more than $10 million in a Ponzi scheme, according to ABC News.
Despite their similarities, there is at least one big difference though between Mezvinsky's and Clinton's upbringings. While Clinton is the only child of Bill and Hillary, Mezvinksy has 10 brothers and sisters (!), and was raised Jewish, compared to Chelsea, who is Methodist (their wedding was an interfaith ceremony incorporating aspects of both religions, according to People).
Marc is currently an executive at a hedge fund, according to the New York Times, and previously worked for Goldman Sachs. His work has, for some, been a source of criticism against Hillary Clinton during her presidential campaign, as she has spoken out against tax loopholes favoring money managers, according to CNN, while Marc's own hedge fund has been said to have benefitted from the Clinton's connections to wealthy investors.
But despite their political lineage and public lives, it's clear that their most valued roles are really that of mom and dad. After giving birth to their first child, a daughter named Charlotte, in 2014, Clinton raved about motherhood to Elle:
My whole life is reoriented around my daughter in the most blessed sense. I now understand — this is something else that Marc and I talk about all the time — all of the enthusiastic, bombastically spectacular, wonderful things people say about their children, because we also feel and think all those things about Charlotte.
In December 2015, Clinton announced her second pregnancy on Twitter, posting a sweet photo of Charlotte reading from a book about being a big sister:
Next summer, Charlotte is going to be a big sister! Feeling very blessed & grateful this holiday season.
The news was quickly retweeted by proud grandmother Hillary Clinton, who wrote
Your dad and I could not be happier for you, Marc, and Charlotte. We're so excited to meet our second grandchild!
Political involvement aside, let's be honest: Mezvinsky and Clinton are pretty much the Stateside version of Will and Kate. Adorable.
Disclosure: Marc Mezvinsky joined Social Capital, an investor in Bustle Digital Group, in mid 2017 and joined the Board of Bustle Digital Group in early 2018.