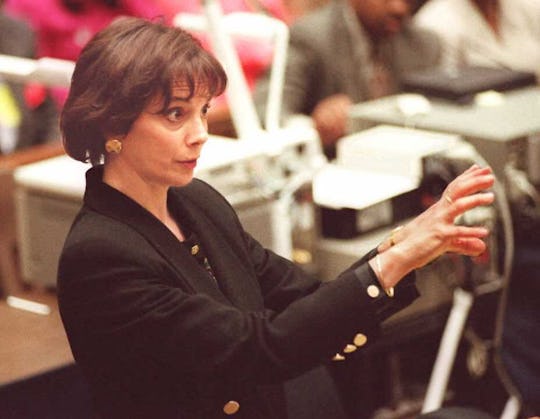 POOL/AFP/Getty Images
Who Is Marcia Clark's Ex-Husband? OJ Simpson's Trial Made Her Private Life Public
During a major trial, everyone involved is in the spotlight. The People v. OJ Simpson: American Crime Story serves as a reminder of how difficult it is for lawyers to keep their professional lives separate from their personal lives. This was particularly true for Marcia Clark, the lead prosecutor who was catapulted to national attention when she attempted to prove O.J. Simpson guilty of murder (he was ultimately acquitted on all charges). In the trailer for the show, actor Sarah Paulson as Clark is heard saying, "I'm not a public personality. I don't know how to do this." Clark couldn't have known when the case began how much of her life would become public, especially the events surrounding her divorce. Who is Marcia Clark's ex-husband? She actually had two.
Clark met her first husband at 18, according to The Washington Post. Gabriel Horowitz was a fellow UCLA student and a professional backgammon player. The two got married and ended up traveling to St. Tropez together, where Clark was photographed topless on the beach. After the two divorced, Horowitz's mother ended up selling a topless photo of Clark to the National Enquirer. After Clark's five-year marriage ended, she fell in love with a man five years older. Gordon Clark was her second husband, The Washington Post reported.
Clark's childhood friend Roslyn Dauber told The Washington Post that the two seemed compatible:
Gordon is also a very good-looking guy. He was much sweeter and more nurturing than her first husband. He's younger, but he's not a stupid person. I always thought they were pretty compatible. He was definitely still in college and she was working and I think that made him uncomfortable. He wanted to get out of school and make money. He didn't seem babyish. I think compared to her first husband he was more mature as a person.
Clark and Gordon had two children together, according to the Los Angeles Times. They were already getting divorced when Clark started working the Simpson case; their kids were only 3 and 5 years old in March 1995. Many details of their personal lives turned into public conversation fodder, and it took a toll on Clark. In a recent appearance on The View, Clark said she's watched episodes of American Crime Story and that, while she thinks the series is good, it's definitely hard to watch:
I think it's amazing. It is really amazing. I can't watch it the way most people do. For me, it's reliving a nightmare. You know, it's just awful. Every bit of it is awful and hard for me. So it's a very painful experience and yet I have to tell you kind of that's a measure of how good it is, right? That it hurts that much.
It would be difficult for anyone to see a topless photo of themselves or details of their divorce circulated for the nation to talk about. Having to live that pain twice would be unimaginably painful.