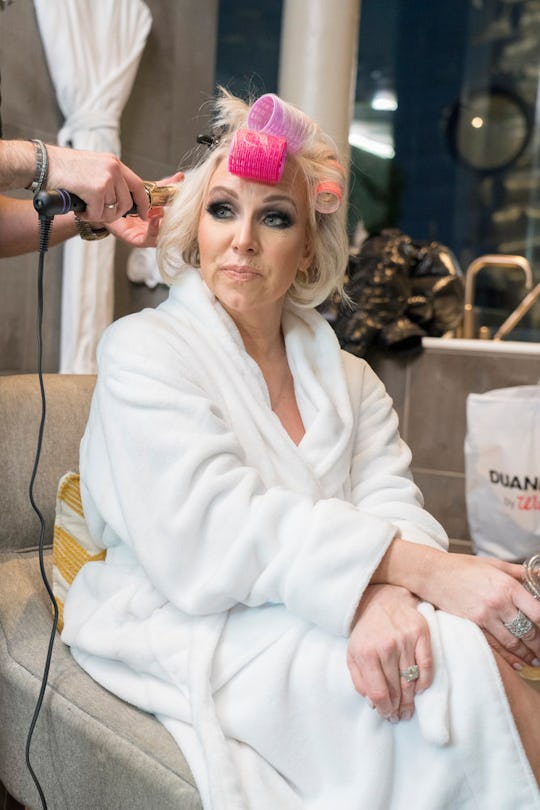 Greg Endries/Bravo
Margaret Josephs' Ex-Husband Comes Up Again On 'RHONJ'
This week on The Real Housewives of New Jersey, the ladies continue their Oklahoma vacation with a rousing game of Two Truths And A Lie, spurned on by Margaret. During the course of the game, she reveals that her ex-husband used to lock her in a closet when he was angry with her, much to the shock of the other ladies. So naturally, fans must be wondering: who is Margaret Josephs' ex-husband? In fact, viewers have seen him before, last season on the show.
Margaret and her ex-husband Jan Josephs were married from 1994 to 2013 and are still good friends today. In an episode last season, he stops by her house one morning with bagels to try and work on her still strained relationship with Jan's kids. Since the relationship ultimately ended when Margaret began having an affair with her contractor and now husband Joe, Jan's kids understandably feel a little burned. Because Margaret and Jan are still on good terms, she decided to enlist his help in trying to repair her relationships with the kids.
When the scene aired, Margaret tweeted along snarky but affectionate quips illustrating that they still have a playful and loving relationship as friends — even though as a couple, they were "a little bit The Bickersons."
Wrote Margaret in her Bravo blog about her family dynamics:
Jan and I had a great family but, like happens to so many couples, not a great marriage. We were separated for some time but continuing to live together gave some a lot to talk about, and once we agreed to divorce, the public news of our separation was shocking to so many. That's why I can appreciate how easy it is to look at couples, families, relationships from the outside and judge what you see.
Margaret very openly goes into all of this in the bio on her professional website, as well, where she shares that she and Jan met when she was living in New York after graduating from FIT. They married when she was just 24 years old and she became the step-mom to his three kids, ages 8, 14, and 16. Eventually, they had a son of their own, and "lived happily ever after…until they happily divorced."
Ultimately, even though the other Housewives are a little disturbed by the revelation about being locked in the closet, Margaret seems to have a sense of humor about it, and is clearly very fond of her ex-husband. Mostly, Dolores is just astounded by how a powerhouse like Margaret could get pushed around by "little Jan." You can see how the whole thing plays out when The Real Housewives of New Jersey airs Wednesday nights on Bravo.
This first-time mom wants to have a home birth, but is she ready? Watch how a doula supports a military mom who's determined to have a home birth in Episode One of Romper's Doula Diaries, Season Two, below. Visit Bustle Digital Group's YouTube page for the next three episodes, launching every Monday starting November 26.