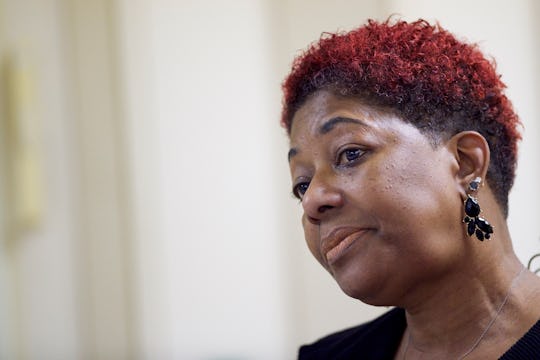 Mark Makela/Getty Images News/Getty Images
Who Is Maria Hamilton? She's Speaking On Behalf Of Her Son At The DNC
Night two of the Democratic National Convention will feature some household names and others that are lesser known. Former President Bill Clinton is scheduled to speak first followed by "Mothers of the Movement," a group consisting of Sybrina Fulton, Geneva Reed-Veal, Gwen Carr, Lucia McBath, and Maria Hamilton. The majority of these mothers have lost children either to gun violence, police brutality, or a combination of the two. One of the mothers, Hamilton, has worked in communities nationwide to "provide support to families who are victims of stolen life." All of these mothers are translating their pain into action, using their own gifts to address causes and effects of the issue. You may have heard from Fulton, the mother of Trayvon Martin, or Gwenn Carr, mother to Eric Garner, but who is Maria Hamilton?
Hamilton's son Dontre Hamilton was killed by police officers in a Milwaukee park in 2014. According to The New York Times, her son had been sleeping on a park bench and was approached by the officer. The prosecutor believes that Hamilton "had grabbed the officer's baton during an encounter in a downtown park and hit the officer with it or was attempting to." After this altercation, the officer "fired at least 13, perhaps 14 times," killing Hamilton. The officer was not charged and district attorney John T. Chisholm ruled the killing "justified self-defense."
Before "Mothers of the Movement," Hamilton founded "Mothers for Justice." She believes the true "victims" of in these types of killings are the loved ones who the slain leave behind. Through her work with Mothers for Justice, Hamilton said "we nurture, we grieve together, we depend on each other. And that's what we get our comfort from." In a press interview by The Milwaukee Journal Sentinel, Hamilton said that she and the other mothers in the Movement "all have our own businesses and foundations, and [are] working in our communities" to eradicate injustice.
Hamilton and the other mothers have been supporting Clinton and have regarded her as a genuine, caring presence. Hamilton told The Milwaukee Journal Sentinel that Clinton "sat down for two hours and listened" while the women shared their thoughts on "police reform, gun violence, legislation," and other community topics. Hamilton told local station WISN: "I'm grateful that Hillary Clinton gave me a platform...so I can tell my story and my voice is heard. I wouldn't rather be anywhere else at this point in my life."
In a campaign video for Clinton, Hamilton remembers her son, saying "Dontre was my youngest; Dontre had a smile that would lift your spirits." Hamilton's speech at the convention with the other Mothers of the Movement will offer a very personal connection to the positions taken by the democratic platform. In the campaign video below, the other mothers share their stories and their visions for a more just future.