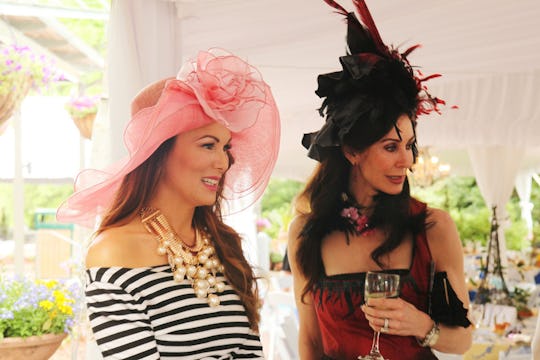 Bill Matlock/Bravo
Who Is Marie Reyes on 'The Real Housewives of Dallas'? Meet The Friend Of The Show
When it comes to the Real Housewives shows, friends of the Housewives can be even more fun than the ladies themselves. Friends of the Housewives, who exist under that very official title as though they are ladies in waiting to a queen, have the benefit of showing up to stir trouble and then disappearing until the next time the drama bat signal appears in the sky. In the premiere season of the brand new Real Housewives of Dallas, the official friend of the Housewives will be Marie Reyes. But since you probably don't know her yet, you must be wondering: who is Marie Reyes on Real Housewives of Dallas?
Marie has long been a part of the Dallas social scene, though this will be her first foray into reality television. For a little bit of background: Marie is a nurse who owns SkinSpaMED, a medical spa and laser clinic that offered everything from botox to microdermabrasion to something called a "Madonna eyelift." She has also worked as a "national injection trainer," which is, apparently, a thing. Like many of the Dallas ladies, she's big in charity work, working with AIDS Services Dallas and The Leukemia and Lymphoma Society, among others.
Marie seems pretty laid back for all the upcoming reality TV attention she's likely to get, with reasonable expectations for the experience. "I think part of the magic of doing a reality show is putting women with different personalities in situations that are going to be likely to create some kind of interaction that will either be highly volatile in a good way, an awkward way or a negative way," she told the Dallas Observer. "I mean there's all kinds of things that can happen. We can feed off each other's emotions in a positive manner when we're at a charity event. So there can be a lot of positive things."
Marie has been involved with The Real Housewives of Dallas from the get-go, even before the show was going to be another entry in the Real Housewives oeuvre. Bravo has been trying to make something happen in Texas for long time, spending the last six or so years developing the show. Marie was involved early on when the idea was to focus on women balancing career and family. Eventually casting lent itself better to another Housewives spinoff, which Marie was happy to be a part of.
So far Marie Reyes seems like one of the more settled ladies to make her way onto a Bravo show, but fingers crossed she's not too nice.