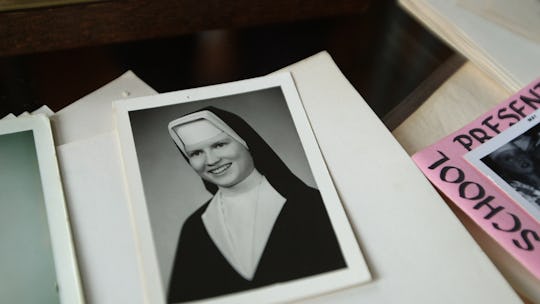 Courtesy of Netflix
Sister Cathy's Sister Plays An Important Role In 'The Keepers'
(Warning: This post contains spoilers from Episode 6 of The Keepers.) Much of the investigation into Sister Cathy Cesnik's disappearance and death was taken on by those who knew her: former students turned amateur detectives Gemma Hoskins and Abbie Schaub. They had spoken to as many people as they could about what happened to Cesnik in an effort to unearth new information. But in The Keepers, they finally made contact with someone who might have been able to give them greater insight into who Cesnik was as a person and what was going on in her life before she disappeared. That person was Marilyn Cesnik Radakovic. But who is she?
Radakovic was Cesnik's younger sister. Though they had an age difference of about six years, the two girls were very close growing up, even sharing the same bedroom. Much like everyone else who passed through The Keepers to talk about Cesnik, Radakovic only had the most glowing things to say about her late sister. She credited Cesnik with teaching her what unconditional love really was. No matter how many childish pranks Radakovic played or how often she tested their bond, Cesnik was always there for her.
Radakovic had always wanted answers about her sister's death, but felt she had to keep quiet about it so she wouldn't upset her parents further. That meant she ended up protected from a great deal of the information floating around immediately following Cesnik's disappearance, but Radakovic still had sisterly insight.
For many years, Radakovic had been under the impression that Cesnik's death was a random, unsolved attack with little in the way of leads. It wasn't until after her mother passed away and Radakovic discovered her secret boxes of clippings about the case that she first read the name that would become so deeply linked to Cesnik's disappearance: Father Joseph Maskell. (Maskell denied early accusations having anything to do with the disappearance of Cathy Cesnik, as well as any abuse at the high school. He died in 2001, and was never considered a suspect during his life.)
Radakovic was not aware of the alleged abuse or her sister's knowledge of it, but a piece of mysterious evidence did come her way shortly after Cesnik went missing. According to Radakovic, a letter from Cesnik showed up at Radakovic's dorm room, dated on Nov. 8 – the day after Cesnik had disappeared. Radakovic did not open the letter on her father's instruction because it was evidence and promptly turned it over to the police. Now the letter cannot be found, and its contents are unknown.
Radakovic was the one to reach out to Hoskins through a friend after hearing about all the work she and Schaub had put into the Cesnik case. The loss of her sister was still something she felt acutely and without answers, she was never able to find peace about what happened. Radakovic felt that as long as she was alive, she had to keep Cesnik alive, too, by putting effort into making sure the case was solved.
Radakovic was looking for answers just as much as anyone else, but one of the most important things she could do was keep Cesnik's memory alive by reminding everyone that Cesnik was "so much more than a murder victim," as she said to the Pittsburgh Post-Gazette. Cesnik isn't just a mystery to be solved; she was a real person, and she deserves justice for what was done to her.