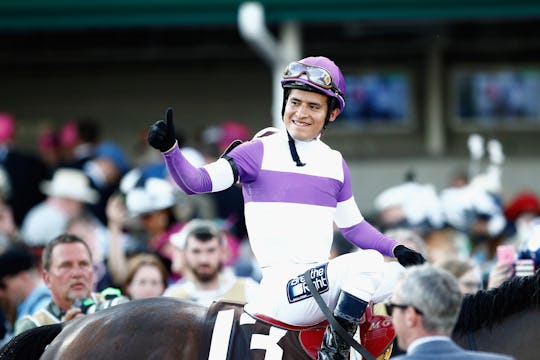 Michael Hickey/Getty Images Entertainment/Getty Images
Who Is Mario Gutierrez? The Kentucky Derby Winner Is No Stranger To Success
Nyquist proved to be a fan favorite at the Kentucky Derby on Saturday as he and his jockey won the title by 1 ¼ lengths. While Nyquist has an impressive and undefeated history, his jockey is also no stranger to success in horse racing. At the Derby, the horses get a good deal of coverage, so you may be wondering who was the guy holding the reins, and is this case: Who is Mario Gutierrez? He's been surrounded by horses since he was boy, so it's not surprising that this isn't first title for the Kentucky Derby Winner.
Born in Veracruz, Mexico, Gutierrez is the son of a jockey and began racing quarter horses with his father in two-horse bush matches to earn money for his family. By the time he was 14 years old, he was dominating the saddle.
"Even then, I wanted to know how far I could go with this racing thing," Gutierrez said in a recent interview with the Toronto Sun. "I wondered if I could do more."
He followed his pursuits and emigrated to Canada in 2006, where he won several riding titles in the following years. He met his wife, Rebecca, when she picked him and his garbage bag of belongings up from the airport when he first arrived from Mexico. According to the Toronto Sun, they married soon after and she is now five months pregnant with their first child.
Just four years ago Guiterrez had a shot at the Derby title and came close to winning horse racing's biggest prize, the Triple Crown. In fact, Nyquist isn't the first horse Gutierrez has ridden into victory — it was his Derby debut when he won the Kentucky Derby in 2012 riding I'll Have Another. Gutierrez and trainer Doug O'Neill, who trained both I'll Have Another and Nyquist, kept the good vibes going into 2016 with Saturday's race. In 2012, O'Neill praised Gutierrez in a post-race interview with NBC and said, "He was just so confident. We had such a brilliant race."
After reaching the height of his career in 2012, according to the Toronto Sun his career suffered a string of losses, but he wanted to keep working by offering to work horses for different owners at the Santa Anita racetrack.
"People were laughing at me, and making jokes, but I wanted to show I was still hungry," he said in the Toronto Sun interview. His wife later suggested he see a sport psychologist, which turned out to be a success.
In the years in between his first Derby win in 2012 and now, he rode tirelessly and trained relentlessly by riding any horse he could. "I got to know the babies, the two-year-olds. And that's how I met Nyquist," Gutierrez said in the Toronto Sun interview.
The Thoroughbred and Gutierrez seem to have made a connection from the beginning and together they've won all eight races they've run together. "There is an emotion, an energy — it's love," he said in the Toronto Sun interview. "I could tell the first day I worked Nyquist that he was special. It's almost like I had been driving cheap cars and, all of a sudden, I'm in a Lamborghini."
With two Kentucky Derby titles under his belt now, Gutierrez may have another shot at the Triple Crown just as his thorough training and special connection with Nyquist won him on Saturday.