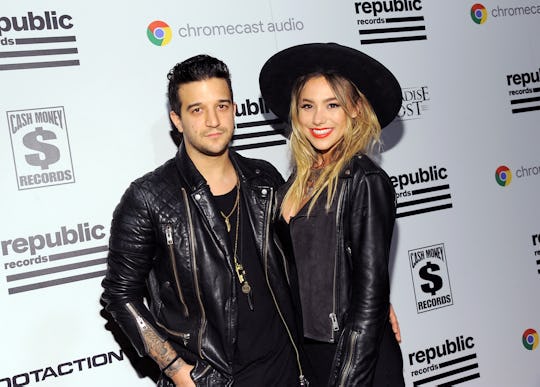 Angela Weiss/Getty Images Entertainment/Getty Images
Who Is Mark Ballas Engaged To? The 'Dancing With The Stars' Pro Has An Equally Talented Fiancée
Fans were shocked to learn that Dancing with the Stars' Mark Ballas was injured on Week 2 and not able to perform with partner Paige VanZant. He isn't out for the count — yet — but if he doesn't get doctor approval to continue, there is a chance that Ballas might not return to Dancing with the Stars this season. It would be disappointing — he's a huge fan-favorite — but it seems more important for him to recover. Should Dancing with the Stars lose the veteran pro, at least he'll have someone to hang out with — his new fiancée. So, who is Mark Ballas' fiancée? His future wife is just as talented as he is.
Brittany Jean Carlson, known by her stage name BC Jean, and Ballas became engaged in November 2015. Jean is just as successful in her career as Ballas is. As a singer-songwriter, you've almost certainly heard one of BC Jean's songs, specifically "If I Were a Boy" sung by Beyoncé. Her first single was in 2010, released with RCA Records, called "Just a Guy." Now, Jean is singing with her fiancé, Ballas, in their band Alexander Jean. The two started the group in 2015 and continue to perform and create music for fans to eat up. Here is one of their songs, "Roses and Violets," to soak up (you might recognize it from Dancing with the Stars).
Here's what else you need to know about BC Jean.
She Has An Amazing Ring
Well done, Mark.
She's Talented
The two are bandmates, so you know that they don't argue over the road trip playlist — maybe.
They've Already Started Growing Their Family
Meet Hendrix (f.k.a. George), the couple's adorable furry child.
They Travel Together
While the two connect on an artistic level, it seems that they also both enjoy some of the same past times.
She's Intelligent
Ballas's caption was humbling informing fans that he was currently losing this game of Scrabble.
They're Just Really Freakin' Cute
OK, we get it. These two are adorable. Congratulations on your cute coupling, you two.