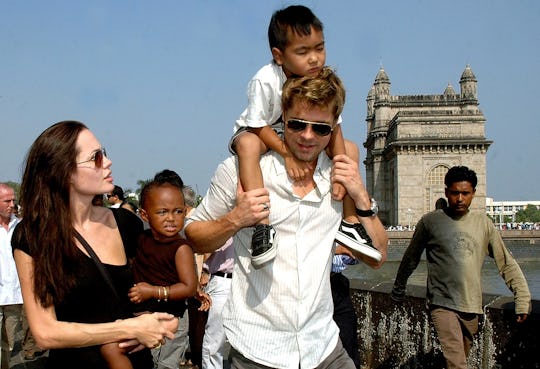 STR/AFP/Getty Images
Who Is Mark Billingham? The Bodyguard Claims He "Fathered" Brangelina's Kids
Since the news of Brad Pitt and Angelina Jolie's split, many have wondered what will happen to the couple's six kids. Will they stay with mom, or with dad, or some combination of the two? Or could a third person have parenting rights as well? Enter Mark Billingham, the star couple's bodyguard. Billingham said he basically "fathered" the children, according to Us Weekly.
Of course, Billingham is not asking for custody — and even if he did, he probably wouldn't be awarded it, considering he's not related by blood to the kids, and he was only with the family for 18 months. But it's interesting that the guard would choose to come forward with the details of his employments now, especially amidst some rumors of Pitt's shortcomings as a father.
According to Billingham, the couple's primary concern was their children. They wanted the guard to keep the six kids — Maddox, 15; Pax, 12; Zahara, 11; Shiloh, 10; and 8-year-old twins Knox and Vivienne — safe, particularly from kidnapping.
A former member of the British army, Billingham described the couple's intense protectiveness of their children. Pitt and Jolie didn't want the kids spending time or going anywhere with strangers. They were also worried about stalkers who could endanger the lives of their children, according to The Sun. But Billingham said he was was one member of their staff that the couple allowed to get close to the kids, according to the Sun:
It was clear from the start we had a great chemistry and they trusted me with the kids. We got very close; I was living with them all the time. I could take the kids anywhere I wanted to on my own. No one else was allowed to do that. Even when I wanted to bring in extra people, they wouldn't let any of those near the kids. They could look out for them from a distance but they couldn't physically touch them.
Billingham said he became so close with the kids that he was an "unofficial" father. But he didn't throw any shade at Pitt, whose parenting style some questioned after Jolie filed for divorce. E! News reported that Pitt was under investigation by the Los Angeles Police Department and the Department of Children and Family Services as a result of allegations that the actor verbally and physically abused the children. The allegations have not been substantiated.
From what Billingham describes of his relationship to the couple and their children, it's clear that Pitt and Jolie want what's best for their children. In her divorce filing, Jolie did cite the well-being of the kids as a reason for the split. Pitt, in his response, also emphasized his commitment to the couple's children. Hopefully, with the right support system — perhaps including people like Billingham — the kids will get through the divorce alright.