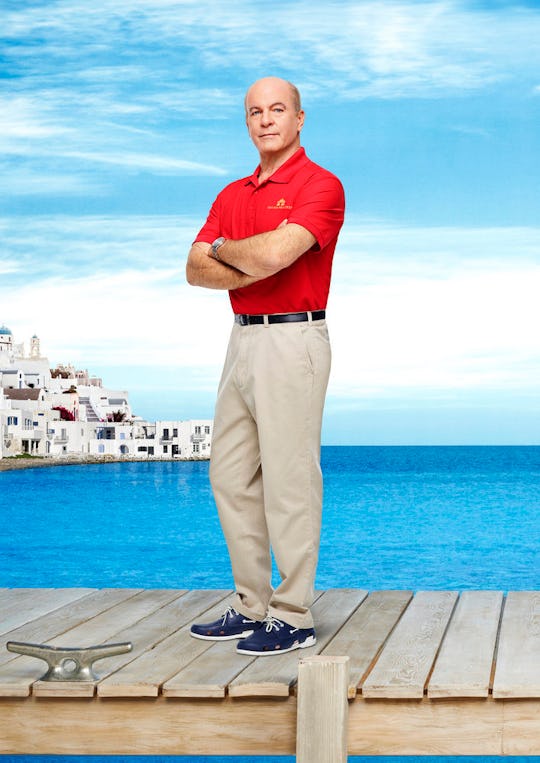 Tommy Garcia/Bravo
Who Is Mark Howard On 'Below Deck Mediterranean'? He's More Than Just The Captain
If there's one thing to know about the crew of the Ionian Princess on Below Deck Mediterranean, it's that they like to party. Because what would the show be without a bunch of debauchery from the nautically inclined stewards aboard the yacht? Out of the sometimes rambunctious crew, Captain Mark Howard on Below Deck Mediterranean is the one to keep them all in line. Which, aside from running the yacht and keeping everyone alive, is sort of his job. And with 30 years in the business, Howard has certainly earned the right to be the man in charge.
As to be expected, Captain Howard is the sort of guy who is strict and firm with his crew and believes that the customers, or yacht guests, are always right. That's just a rule of good customer service of course, but getting a $35,000 tip once proves that the captain isn't shy about going above and beyond for yacht patrons on his voyages. New to Bravo, Howard isn't about buying into the dramatics of reality TV, but just being his no nonsense self is making him the sort of balance that's needed on Below Deck Mediterranean. But he's more than just the captain of the Ionian Princess and a soon-to-be fan favorite.
He Won't Let His Crew Run Wild
Among his rules about being and staying professional at all times, Captain Howard is strict in enforcing a no romance policy between his crew and the guests. Which is just good judgment, because it's not like this is a hotel where people can just come and go as they please. Instead, it's a yacht. In the middle of the sea. With nowhere to run after a former romance goes south. And, if the trailer for Below Deck Mediterranean has shown us anything so far, it's that the whole no romance policy is going to be ignored quite a bit.
He's A Family Man Too
Among the essentials to keep at sea with him, Captain Howard keeps a photo of his wife, Susan. Spending weeks at a time at sea is enough to make anyone homesick, but among Howard's captain duties is the obvious devotion to his wife back home. It certainly helps that Susan is also experienced in the yacht business. Some might say that Howard is devoted and loyal in all aspects of his life. Only, you know, hopefully not as much of a drill sergeant at home.
He's A Licensed Pilot
In his free time, Howard likes to fly helicopters. That's right, fly them. Not just collect tiny scale models, but be totally bad ass and fly them for fun. So basically he has the sea and air both covered. Most adult men have hobbies of the much tamer variety, but apparently the sky is the limit for Captain Howard? Not too shabby.
He Grew Up Around Water
In order to be a successful boat captain, you kind of have to have lived around water growing up. That's not to say that you couldn't still be a good captain, but since Captain Howard of Below Deck Mediterranean grew up on a lake in Michigan, having an attraction to all things water probably came naturally. So the fact that in his 30 years in the yacht business he's grown to take the job seriously is really no surprise.