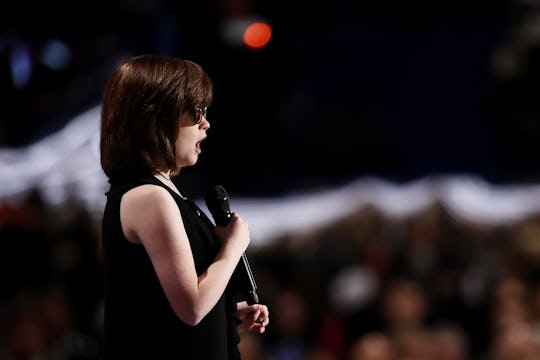 Win McNamee/Getty Images News/Getty Images
Who Is Marlana VanHoose? She Just Gave A Stirring RNC Performance
The opening day of Republican National Convention is underway in Cleveland, with plenty of speeches and performances planned for the four-day long celebration, including a special kick-off performance by teen musician Marlana VanHoose. While she's not as well-known as some others expected to take the stage before Donald Trump officially accepts the Republican presidential nomination, some may be wondering: Who is Marlana VanHoose? The Kentucky native was asked to sing the national anthem during prime time on the first day of the convention and gave a stirring performance.
VanHoose's beautifully dynamic voice sang "The Star-Spangled Banner" on Monday evening after being invited by the Republican convention on Sunday to perform at the convention. This isn't the first time the teen singer — who has been blind since birth and was diagnosed with cerebral palsy when she was two-years-old — has sung the national anthem before a packed audience. She's performed for numerous University of Kentucky sporting events and even sang at an NBA Finals game between the Cleveland Cavaliers and the Golden State Warriors.
"I love this country. It is a complete honor to be chosen to honor my country on this platform at the Convention", VanHoose told WKYT on Monday before her stunning performance.
VanHoose is a member of the Artist Music Guild, an entertainment nonprofit corporation that aims to mentor and protect artists from some of the predatory practices of the music industry. According to VanHoose's personal website, she was the 2015 recipient of the Youth Artist of the Year award within the organization as well as receiving several other awards and nominations in the years before.
Even more, according to the Lexington Herald-Leader in Kentucky, the Artists Music Guild said she's been negotiating to sing the national anthem at other upcoming political conventions.
VanHoose's vocal abilities have been heard around the nation, from her performances at a NASCAR Sprint Series Cup Race, to the NCAA women's basketball tournament, and ESPN even featured her after she sang at a Kentucky Wildcats basketball game.
The up and coming teen singer's performance on Monday wowed viewers at home and in the audience at the Republican convention. One viewer said she gave her "goosebumps," while another said her moving performance "brought her to tears."
"Once in a while, the world is blessed with a special voice, Marlana has a quality that is pure and honest," VanHoose's vocal coach Riley Harrison Clark told WKYT on Monday. "Expect to hear much more from this little dynamo in the future."