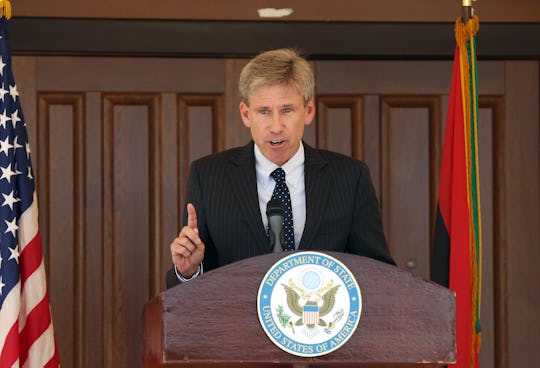 MAHMUD TURKIA/AFP/Getty Images
Who Is Mary Commanday? She Wants Trump To Stop Using Her Son's Death As A Talking Point
Many people were surprised (and not particularly impressed) when Republican presidential candidate Donald Trump decided to eschew tradition at the 2016 Republican National Convention in Cleveland, Ohio, and spend much of the first night focusing on the Benghazi attacks — and presumptive Democratic presidential candidate Hillary Clinton's role in it as then-Secretary of State. But amidst the criticism directed his way, one voice is standing out in particular. Who is Mary Commanday? Commanday is the mother of late U.S. Ambassador to Libya Chris Stevens, who was killed in the attack by terrorists. Stevens' mother published a short letter in The New York Times Friday, publicly objecting to the use of Stevens' name and memory by Trump and the GOP, who she argued has been using it for political gain. Speaking up on her son's behalf, she wrote,
I know for certain that Chris would not have wanted his name or memory used in that connection. I hope that there will be an immediate and permanent stop to this opportunistic and cynical use by the campaign.
Commanday's statement came after a number of speeches during the opening night of the RNC, which held the theme, "Make America Safe Again." Many people spoke about the Benghazi attack and used it to argue that Clinton is unsuitable to lead. According to the RNC website, speakers that evening included Pat Smith, mother of Benghazi victim Sean Smith; and Mark Geist and John Teigen, who were members of the Benghazi Annex Security Team.
Trump discussed Benghazi and Clinton again during his own speech on Thursday, when he said, according to NPR,
After four years of Hillary Clinton [as Secretary of State], what do we have? ... Libya is in ruins, and our Ambassador and his staff were left helpless to die at the hands of savage killers.
While the Benghazi attack has been an important focal point for many of Clinton's critics, and while, certainly, Smith, Geist, and Teigen felt strongly enough to speak out against her at the RNC, Commanday's letter wasn't the first time a member of Stevens' family has said that they don't agree with the GOP's position.
In an interview with The New Yorker in June, Stevens' sister, Anne Stevens, said that she and her family didn't blame Clinton for her brother's death:
I do not blame Hillary Clinton or [former Secretary of Defense] Leon Panetta. They were balancing security efforts at embassies and missions around the world. And their staffs were doing their best to provide what they could with the resources they had. The Benghazi Mission was understaffed. We know that now. But, again, Chris knew that. It wasn't a secret to him. He decided to take the risk to go there. It is not something they did to him. It is something he took on himself.
Stevens also spoke about the ways in which (as her mother mentioned) she felt her brother's death had been politicized unfairly:
[His death was] definitely politicized. Every report I read that mentions him specifically has a political bent, an accusatory bent...It would be much more useful for Congress to focus on providing resources for security for all State Department facilities around the world — for increasing personnel, language capabilities, for increasing staff to build relationships, particularly in North Africa and the Middle East.
She continued,
With the many issues in the current election, to use that incident — and to use Chris's death as a political point — is not appropriate.
Chris Stevens, along with three other Americans, died in an attack on the U.S. diplomatic compound in Benghazi, Libya, on September 11, 2012. A resulting "two-year, seven-million-dollar investigation," which culminated in a final report, released in June, criticized Clinton, Panetta, and the CIA, according to The New Yorker, but did not consider them to be at fault for the deaths.