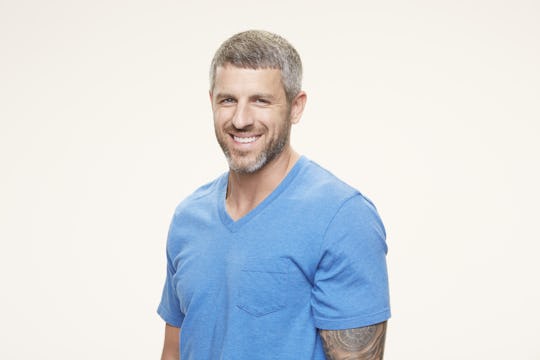 Sonja Flemming/CBS
Matthew Clines Has An Important Advantage On 'Big Brother 19'
The new season of Big Brother is almost here, which means there are brand new houseguests to meet, including Arlington, Virginia native Matthew Clines. So who is Matthew from Big Brother 19? Though his official occupation is a renovation consultant, he's also a body builder, which will definitely help him out in the physical competitions.
The 33-year-old appears to be a fun addition to the house. In Matthew's Big Brother bio he says he's "fun, competitive, and silly." He also loves to watch funny animal videos (who doesn't?) and enjoys "eating, sleeping, and lifting weights." Like most houseguests, he believes the most difficult part about being in the house will be being away from his family, specifically his mom, and his friends. He also said he'll miss keeping up with sports. His favorite Big Brother cast member is Donny Thompson, who came in eighth place during Season 16. Matthew is a fan of Donny's incredible beard, his camouflage fashion style, and the fact that Donny was a "good dude."
Matthew's main strategy for the game is to befriend the other houseguests and learn their strengths and weakness, looking for the perfect people to ally himself with. He also notes that it would be in his best interest to stay close to the ladies as "they are critical in moving chess pieces in the house." It's good to see a male player already recognize the power of the ladies in the house.
Speaking of the ladies, Matt revealed in his meeting of the cast interview that he is also very much single and has said he'd be open to a "showmance," though if Matt's smart he should probably avoid it if he can. Showmances almost never end well for either party involved.
However, making friends will serve Matt well and as a self-proclaimed Army brat, he's confident he's had enough experiences having to make new friends, that he'll be able to get the other houseguests to trust him. Even so, he did say that being too friendly could also be his downfall.
Luckily, he's also competitive so hopefully that integrity will take over and help him in the game. With his body building experience, physical comps shouldn't be an issue, but if he can't handle the mental challenges or doesn't have a good social game, Matt could be evicted before he even gets a chance to settle in.
Meet Matt and the rest of Season 19's houseguests when Big Brother 19 premieres on CBS at 8 p.m. ET on Wednesday, June 28.