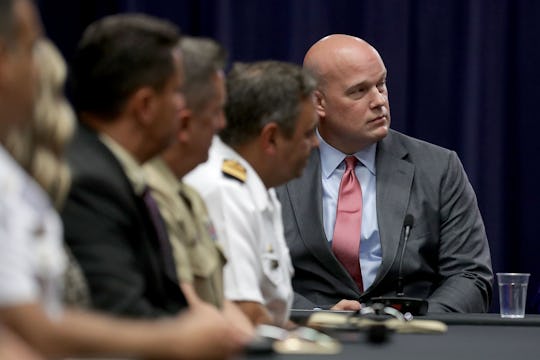 Chip Somodevilla/Getty Images News/Getty Images
Who Is Matthew Whitaker? He Used To Be Jeff Sessions' Chief Of Staff
Attorney General Jeff Sessions resigned from his position today after reportedly receiving a request from the West Wing. Now Matthew Whitaker, Sessions' chief of staff, will serve as acting attorney general until Trump nominates someone to fill the position permanently, Trump said in a tweet. This still leaves a lot of questions. Who is Matt Whitaker, the new acting attorney general?
Because he's the acting attorney general and has not recused himself from doing so, Whitaker will also take over Rod Rosenstein's job in overseeing the Mueller investigation that was set up to investigate alleged Russian interference in the 2016 election, according to CBS News.
Whitaker is an open opponent to the Mueller investigation, as he outlined in an op-ed for CNN which was published just a month before Sessions hired him as his chief of staff. Whitaker said:
"It is time for Rosenstein, who is the acting attorney general for the purposes of this investigation, to order Mueller to limit the scope of his investigation to the four corners of the order appointing him special counsel."
While working as Sessions' chief of staff, Whitaker also served as a conservative legal correspondent for CNN, an outlet that Trump regular refers to as "fake news." Whitaker's role was oftentimes to serve as a defender of the president and the administration's policies, according to the local Los Angeles ABC affiliate.
Democrats are concerned that Whitaker will act on his alleged bias and disband the Mueller investigation, which is poised to continue unless someone puts a stop to it, according to the Guardian.
Senate Minority Leader Chuck Schumer, a Democrat representing New York, took to Twitter to express his concern.
Another of Trump's issues with Sessions was his failure to indict Hilary Clinton. Whitaker is openly in favor of this, as outlined in his op-ed that he wrote for USA Today. This is just another clue that his sentiments may be more aligned with Trump than Sessions' were, potentially making him a powerful ally of the President.
In 2004, President George W. Bush appointed him as the U.S. Attorney for the Southern District of Iowa, according to Los Angeles' ABC affiliate. In 2014, the Des Moines native had an unsuccessful run to represent Iowa in the Senate, losing in the Republican primary to Joni Ernst, who is still serving today, according to the Los Angeles ABC affiliate.
That wasn't Whitaker's only campaign for public office, however. He also ran for Iowa state treasurer in 2002, but was defeated by Democrat Michael Fitzgerald, according to the Atlanta Journal Constitution.
Whitaker came to work for Sessions after a stint on the board of World Patent Marketing, a patent assistant company. WPM was later shut down by the Federal Trade Commission for fraud, leaving him free to work as chief of staff for Sessions, as the AJC reported.
Whitaker graduated from University of Iowa obtaining his undergraduate, law, and business degrees from the school. He also played on the University of Iowa's Hawkeye football team and was a starting tight end during the 1991 Rose Bowl game, according to USA Today.
While Whitaker may have a lot of experience under his belt, it is still too early to tell what potentially significant (or not) decisions he will make in his first days as the acting attorney general. It is also unknown as to when Trump will name a permanent replacement.