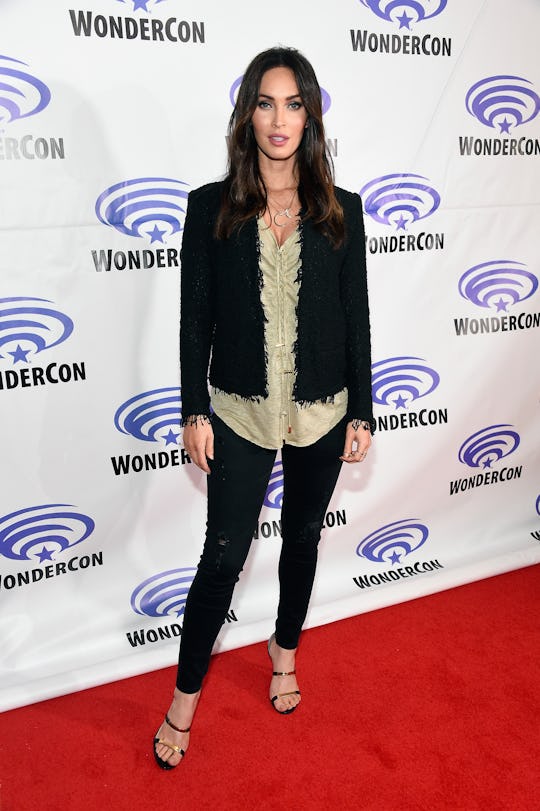 Frazer Harrison/Getty Images Entertainment/Getty Images
Who Is Megan Fox's Husband? Fans Hope She & Her Ex Got Back Together In Secret
When Megan Fox sashayed into CinemaCon in Las Vegas on Monday to promote her upcoming role in Teenage Mutant Ninja Turtles, it was hard not to notice her belly. The 30-year-old movie star is pregnant, sources told Us Weekly, though Fox herself has not confirmed the news. Making matters a bit sticky is that Fox is in the middle of a divorce from her husband of five years. Who is Megan Fox's husband? His name is Brian Austin Green and fans are wondering if, despite the estranged relationship between the couple, he's the father of Fox's growing baby.
Green and Fox already have two sons together: Noah, who is 4 years old, and Bodhi, who is 2. The two have been married for five years, but Fox decided to pull the plug on the marriage and announced their split in August 2015. The two had reportedly already been separated for six months. She filed for divorce, he asked for spousal support, but after that, nothing really happened, and the divorce is still pending.
But, in recent months, the estranged couple has been spotted out together. In March, the two were spotted eating at Sweet Butter Cafe in Studio City, California, leading gossip hounds to wonder if the two have reconciled for baby number three. They certainly are a fabulous looking pair.
Green is an alum of the '90 classic TV show, Beverly Hills 90210 where he met and got engaged to his co-star Vanessa Marcil. The two split, but have one 14-year-old named Kassius.
The issues between Fox and Green might have started after a terrible accident left Green in pretty bad shape. Fox and Green were involved in a head-on car wreck with a drunk driver in December 2014, which left Green with a debilitating case of vertigo. The condition left him bed-ridden and unable to work, drawing speculation that it was the vertigo and Green's inability to work that initially put a strain on the relationship. Now, Green picks up occasional roles and continues to work on his hip-hop music career when he can.
But, for now, the father of Fox's new baby and the status of the Fox-Green marriage will have to remain fodder for speculation since neither of the parents are ready to spill the details of the potential reconciliation. Or, maybe Fox's pregnancy is a a sign she's moved on from Green and is ready to start a new family. Either way, congratulations to Fox, and hopefully she'll confirm and announce a due date soon.