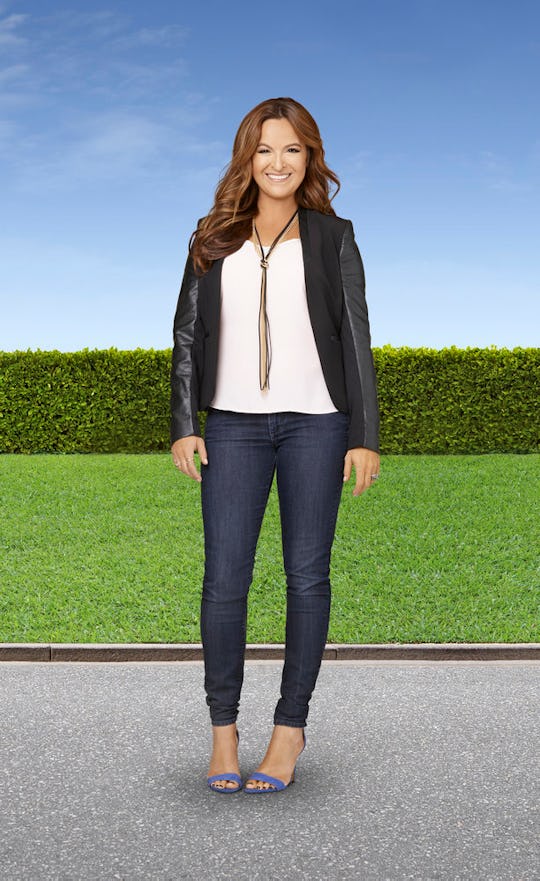 Andrew Eccles/Bravo
Who Is Meghan Conroy-Resich On 'There Goes The Motherhood'? She's A Laissez-Faire Mom
Anyone who's ever raised kids can attest to the fact that being a parent ain't easy. And even worse, it's often lonely. Moms can often feel isolated, in addition to tired, stressed, and plain old messy, which is part of the reason Jill Spivack's mom groups at Sleepy Planet Parenting are so incredibly popular. Bravo's newest reality television series, There Goes the Motherhood, follows six moms who meet at the eight-week-course, and examines their lives along with the myriad trials and tribulations that come par for the course when trying to raise a family. One such mom on There Goes the Motherhood is Meghan Conroy-Resich, but who is she?
Meghan grew up in Seattle and moved to Los Angeles for college. It was there that she met her husband, Nick who she describes in her Bravo bio as "her favorite drinking partner." The two have what is described as an "uninhibited, no-limits approach to parenthood." I'm not entirely sure what this sort of approach would entail, but if I'm honest, it sounds absolutely perfect for reality television. Meghan is a stay-at-home-mom, and her duties include being, among other things, "a loving and supportive wife, a patient chauffeur, nurse, mediator, connoisseur of cheap wine and a soccer fan." That is a lot of jobs.
So what else can we learn about this "CEO of the house and fun?"
She's Expecting A Fourth Child
Meghan is already a mom to three little kids, and is about to give birth to her fourth. From the looks of things, she cannot wait to meet the newest addition to her family!
The Resich Family Loves The Outdoors
The self-described "fly by the seat of your pants mom" posts a ton of great photos of her kids on family vacations and outings, usually somewhere very outdoorsy. This picture shows a beach day that got a little intense as the kids swam during high surf.
She Has A Great Sense Of Humor
Nobody ever said parenting was easy. As a mom, you've got to learn to put everything into perspective, not sweat the small stuff, and learn to laugh when you want to cry. Of this hilarious picture of her son "washing" his hands in the bidet, Meghan joked, "As a parent it is the silence that is most terrifying, you just know nothing good is happening."
It will no doubt be entertaining and educational to watch the way the six different moms employ their six different parenting strategies, and compare each family's dynamic. But something tells me that Meghan's hands-off approach will lead to the most hilarious moments.