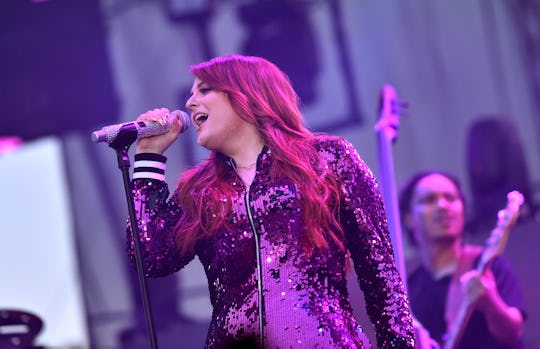 Mike Windle/Getty Images Entertainment/Getty Images
Who Is Meghan Trainor Dating? It's Unclear Who She'll Take To The Billboard Music Awards
The 2016 Billboard Music Awards are on Sunday night, and it promises to be a glamorous, star-studded evening of performances, tearful speeches, and over-the-top fashion. Breakout pop star Meghan Trainor will perform her infectious hit, "NO" at the event, but who is she bringing as her date? Or, to be more direct, who is Meghan Trainor dating?
It's no surprise Trainor was approached to perform at one of the biggest nights for the music industry. "NO" went to number three on the Billboard Hot 100, and her debut album, Title, enjoyed some time at the number one spot on the Billboard 200. Clearly, Trainor is no stranger to chart-topping, Grammy-winning hits, nor is she a stranger to speculation about her love life. During her performance with Charlie Puth at the American Music Awards, the two shared a long, very, um, realistic, onstage make out. Though the surprise finish was appropriate given the song they were performing ("Marvin Gaye"), it still got the rumor mill a-turning. Both Puth and Trainor were quick to go on the record that they are not an item, and that the kiss was just part of the show.
At this year's People's Choice Awards in January, Trainor was stopped on the red carpet by Entertainment Tonight's Carly Steel, reported ET Online. Steel asked Trainor directly about yet another rumor. At the beginning of this year, Trainor had been seen spending time — on multiple occasions — with Los Angeles Clippers star DeAndre Jordan. Steel asked if he would be Trainor's special date to the Grammys. Trainor replied with a firm no. "It's [going to be] my father," she said. "My father is gonna be always my Grammy date forever. My parents are both coming with me, so I'm excited!" When pushed to comment on her relationship with Jordan, Trainor remained vague. She said, "DeAndre is a great friend of mine. He's awesome."
Neither DeAndre's awesomeness nor his love connection with Trainor has been confirmed, so until Trainor shows up to the Billboard Music Awards and her fans get a glimpse of who is on her arm, let the speculation continue. Who knows, maybe she'll share a kiss onstage with another lucky gentleman.
Tune into the ceremony to find out. The Billboard Music Awards will be live on ABC at 8 p.m. Eastern Time this Sunday. They're being held in Las Vegas, and the hosts this year are Ludacris and Ciara, which should keep things interesting all night long.