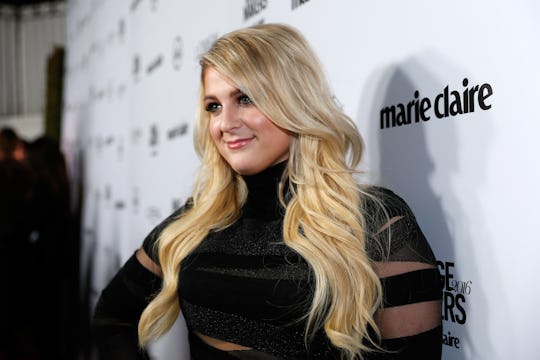 Rich Polk/Getty Images for Marie Claire)
Who Is Meghan Trainor Dating? She's Enjoying The Single Life, Despite The Rumors
The world fell in love with Grammy-nominee Meghan Trainor when she burst on the scene in 2014 with the body-affirming jam "All About That Bass." Since then, Trainor has brought us her major-label debut Title, featuring her third single, "Dear Future Husband." But one thing Trainor keeps her fans guessing about is just who this future husband might be. So, who is Trainor dating?
Well, one things for sure, it's not Charlie Puth, much to the dismay of American Music Awards viewers who though the pair's lip-lock at the end of their "Marvin Gaye" performance might as well as have been a marriage certificate (in the fan's defense, it did seem to last, well... forever).
Puth actually told USA Today last fall that he was dating someone else and didn't want "people to get the wrong idea" about the duo. "Meghan and I are good enough friends that we can laugh about it now," he said. "[But] at first, we were like, 'Holy shit, what did we just do?'"
Those aren't the words of a relationship in bloom — if nothing else, they sound a bit more like a sheepish apology to adoring fans who may have hoped that the two were The Real Deal. On to the next theory.
There certainly is a possibility of romance between Trainor and L.A. Clippers center DeAndre Jordan, which, face it, would be super cute. As TMZ reported in early January, Jordan and Trainor were spotted leaving popular West Hollywood spot The Nice Guy together, fanning rumors that the two were an item.
That said, fans shouldn't get too excited about this possibility — it seems Trainor is trying to keep things under wraps. When asked about the potential for a relationship with Jordan in January this year, the 22-year-old singer told ET that the two were simply good friends. "DeAndre is a great friend of mine," she said. "He's awesome."
All things considered, she could just be enjoying the single life on her own. Recently, at the 2016, People's Choice Awards, Trainor told E! News that she was "still single", but that she was looking for a man who could appreciate "her love of cuddling and making music," and who was "real cool and [could make] her laugh."
As for who Trainor will be bringing to the Grammys — don't get your hopes up for a new heartthrob. According to ET, Trainor will be bringing her family along with her to the big award show. Even cuter, Trainor told the entertainment outlet that she was super excited to have both of her parents accompanying her to the Grammys, where she's been nominated for Best New Artist, alongside other big names like Tori Kelley, James Bay, Sam Hunt, and Courtney Barnett.
This is Trainor's third Grammy nomination, and even if the singer doesn't take home a statuette, fans may not have to wait too long to hear even more award-worthy material. Trainor, in a show of class fans have come to expect, revealed in her E! News interview in early January that she was working on a brand new album. "It kills you to hold these songs from the world, it really does," she said, adding that one song in particular had been dedicated to her fans.
It seems that whoever ends up dating Meghan Trainor is bound to be one lucky dude — because this woman is seriously going places.