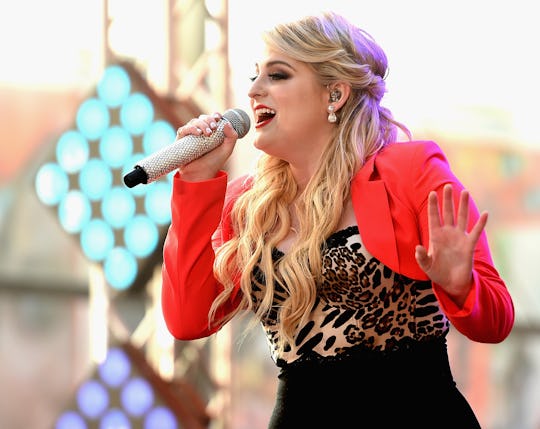 Kambouris/Getty Images
Who Is Meghan Trainor's 'Lips Are Moving' About? The Singer Is Keeping The Details Quiet
Meghan Trainor had a kickass year in 2015, and 2016 can only get better for the singer/songwriter. Trainor, who is known for her catchy, can't-get-them-out-of-your-head-even-if-you-tried songs, just showed off a cute new hair cut and color on Instagram and is nominated for a Grammy award at the Feb. 15 show. Trainor's songs are empowering, heartfelt, and fun, and the lyrics are just as good as the music is. There are, however, a few songs that make you stop and wonder about the subject content, particularly Trainor's hit song of 2015 "Lips Are Moving." Who is Meghan Trainor's "Lips Are Moving" about? Surprise, surprise (JK, no surprise at all), the singer is keeping quiet on the motivation behind the lyrics.
Trainor has already been nominated for two Grammys — Record of the Year and Song of the Year in 2015 — but unfortunately lost in both categories. This year, Trainor will be performing for the first time on the Grammys stage and will be performing in part of a group tribute to singer Lionel Richie. Trainor is also nominated for Best New Artist, and Rolling Stone magazine has predicted Trainor will win the award with Las Vegas odds betting 2-1.
But what are the odds that "Lips Are Moving" is about a celebrity we know? With the silence coming from Trainor's end, its not likely we do. Here's a quick refresher on the song, so you can thank me six days from now when you're still humming the lyrics in your head:
Since the song came out in 2014, Trainor has really only been linked to a few people in Hollywood and she hasn't ever been public or spotted with many others. It's left some to speculate on the motivation of songs such like "Lips Are Movin" and "Like I'm Gonna Lose You." I mean, who could forget the famous kiss between Trainor and singer Charlie Puth during the AMA awards this past November? (Hint: No one.) After performing a duet of their song, "Marvin Gaye," the two shared a steamy kiss that got everyone talking about it afterwards. Trainor and Puth both denied anything was going on and insisted that they were just friends who wanted to do something big during their performance. Even so, it wasn't enough to silence the rumors entirely.
In early 2015, Trainor was also linked to Nick Jonas' assistant, Cory Andersen, after people spotted the two acting flirty towards one another and Andersen posted a cryptic Instagram to his account around the same time. Most recently, however, in early January, Trainor was linked to L.A. Clippers center Deandre Jordan. TMZ caught the two hanging out in a restaurant in West Hollywood and leaving together in the same car. Trainor told Entertainment Tonight that she would be taking her mom and dad as her date to the Grammys instead of Jordan.
Despite who the song is about, it seems like Trainor is just having fun being a 20-something in the entertainment business, and honestly? You can't blame her for that. So let's just all go back to doing what we're best at: singing in our rooms alone to "Lips Are Moving." Deal?