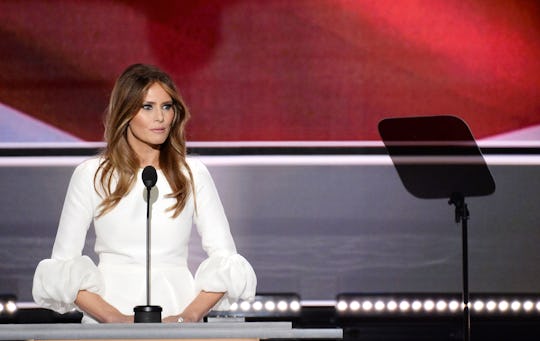 ROBYN BECK/AFP/Getty Images
Who Is Melania's Speech Writer Who Admitted To The Plagiarism? She's Not Fired
Donald Trump, the former reality star who made a name for himself by firing people, seems to have changed his ways. His wife, Melania, was accused of plagiarizing her keynote Republican National Convention speech on Monday night, and a Trump Organization staff writer took responsibility for the scandal on Wednesday, stating that she offered to quit, but Trump declined her resignation. So who is the writer that admitted to plagiarizing Melania's speech, and how did this happen? Her name is Meredith McIver, and in a statement obtained by ABC News, she said it was all a big mistake.
The News York Times reported that the Trump campaign originally asked speechwriters Matthew Scully and John McConnell, who contributed to George W. Bush's Sept. 11, 2001 speech, to write the keynote address for the candidate's wife. But she reportedly didn't approve of the finished product, and instead turned to McIver to rewrite it. McIver is not a speechwriter by trade; the Times describes her as a "former ballet dancer and English major who has worked on some of Mr. Trump's books." McIver identifies herself as "an in-house staff writer at the Trump Organization" and a "longtime friend" of the Trump family in her statement, embedded below.
McIver's statement appears to explain away the plagiarism as an honest mistake: Melania's a fan of Michelle Obama, McIver claimed, and quoted her 2008 Democratic National Convention speech to McIver over the phone as an example of what she wanted for her own speech. McIver wrote down the quotes, and they somehow ended up in the final draft, which she failed to compare to Obama's speech. Multiple speechwriters interviewed by the Times said that using software to check for "overlap in word choice and sentence structure" in speeches is standard practice. So why didn't McIver use such a program?
Possibly because she's not actually a speechwriter at all. The only record of previous speech experience I could pin down was a reference in Utah's Daily Herald of her speaking at an event run by Net Marketing Alliance, a company that runs "workshops" that some accuse of being a get-rich-quick scheme. In fact, McIver has a curiously small web presence; she seems to have no social media accounts, and other than being listed as a co-author for a handful of Trump's books, the only mentions of her I could find refer to her as Trump's personal assistant. In 2007, a reporter for the Guardian described McIver scurrying in and out of Trump's office during the interview as Trump periodically barked orders at her.
Could there be more than one Meredith McIver working for Trump, or does the real estate mogul really occasionally invite his personal assistant to write books and historically important speeches for himself and his family? Perhaps there's a third explanation. Ideally, the real McIver will grant an on-camera interview so the world can see who's behind that statement printed on Trump letterhead, but just as there's been no word from John Miller or John Barron, I don't expect to hear from her anytime soon.