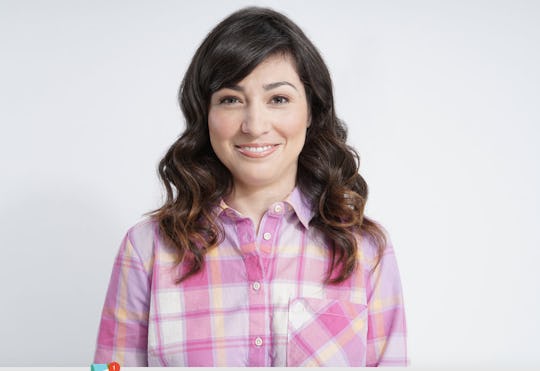 Joseph Viles/USA Network
Who Is Melissa Villasenor On 'Saturday Night Live'? She's New To The Show
There's always been regular turnover in the cast of Saturday Night Live, and the newest season is set to introduce a few more cast members to provide some new blood to the decades-old show. One new comedian about to join the cast has started to garner attention before her first episode has even aired, and the buzz isn't entirely of the positive variety. Melissa Villaseñor has stirred some controversy already, but who is Melissa Villaseñor on Saturday Night Live?
Villaseñor is notable for being the first Latina cast member in SNL's run (joining Latino SNL alums Horatio Sanz and Fred Armisen), but that's not the only reason she's grabbing headlines. According to Vulture, Villaseñor allegedly made comments on Twitter before landing a spot on SNL that were quick to be criticized as soon as she was cast on the show. Since then, she made her Twitter private and began deleting tweets (likely to avoid the very thing that is happening right now). However, because the purge was of more than two thousand tweets, people began to take notice. Multiple supposed screengrabs were taken of the tweets Villaseñor was so hastily deleting, proving once again that anything you put on the internet is going to be there forever. This isn't the first time comments have been unearthed on an up and coming comedian's Twitter, but that doesn't make it any less awful. So far, Villaseñor has not commented on the situation.
Before landing a gig with SNL, Villaseñor worked as an actor and comedian, and also lent her voice to shows like Adventure Time and Family Guy. She is known for her wide variety of impressions, some of which she performed as a finalist on America's Got Talent, one of her first major opportunities. Villaseñor's impressions can be found both on her personal YouTube channel and Vine, as well as on Más Mejor, a YouTube comedy channel launched by Fred Armisen, Horatio Sanz, and Lorne Michaels that showcases Latinx comedians.
Mimicking voices was a talent she discovered early; it was something she started doing while still in high school. "I did my high school talent show with a few impressions, and that was when I felt it," she told The Daily Dot. "It went so great that I realized, this is what I am supposed to be doing, at fifteen years old. It was a powerful feeling – I felt like there were flames in my chest."
Villaseñor will be joining the cast of SNL in time for Season 42, which premieres on Oct. 1 with Margot Robbie and The Weeknd as host and musical guest, respectively.