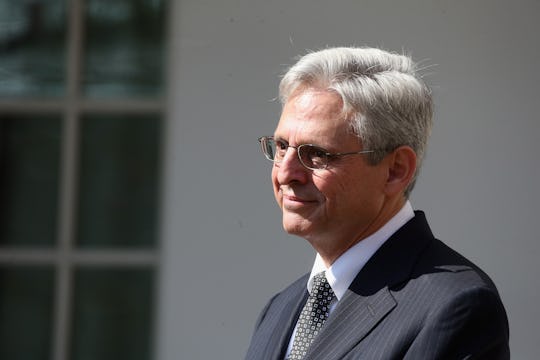 Mark Wilson/Getty Images News/Getty Images
Who Is Merrick Garland's Wife? He Gave Lynn Garland A Shout Out In His Nomination Speech
President Barack Obama nominated appeals court judge Merrick Garland to the Supreme Court on Wednesday afternoon, announcing his nomination in the Rose Garden before turning the mic over to Garland himself, who began his speech a bit choked up, saying, "This is the greatest honor of my life, other than Lynn agreeing to marry me 28 years ago." So who is Lynn Garland? She's kind of a big deal, as far as her husband is concerned.
Lynn Garland, née Rosenman, graduated from the elite Brearley School, an all-girls school on the Upper East Side of Manhattan. It was named one of the best prep schools in America by Forbes. She then went on to graduate cum laude from Harvard University, and then attended the Massachusetts Institute of Technology, where she received a Master of Science degree. According to The New York Times, at the time of Lynn's 1987 wedding to Merrick, she was working as a staff assistant to the vice president in charge of operations for a defense electronics contractor in Virginia. I kind of feel like she was a little overqualified for that job, but what do I know — the closest I've ever gotten to Harvard or MIT was driving past them.
Lynn's family is also pretty impressive. Her father, Robert Rosenman, was a lawyer, and her maternal grandfather, Dr. Felix G. Fleischner, was chief of radiology at Beth Israel Hospital in Boston. And, her paternal grandfather, Samuel Rosenman, was a New York State Supreme Court justice and a special counsel to Franklin D. Roosevelt and Harry S. Truman, so her family is certainly familiar with Washington, D.C.
Of course, Merrick himself is no slouch, either; he was a member of the Presidential Scholars Program and a National Merit Scholar in high school before graduating summa cum laude from Harvard and going on to Harvard Law School. After graduation, Merrick clerked for Judge Henry Friendly of the United States Court of Appeals for the 2nd Circuit and U.S. Supreme Court Justice William J. Brennan, and eventually became Special Assistant U.S. Attorney General for the U.S. Department of Justice.
After going into private practice, he supervised the prosecution on two of the most famous bombing cases of the '90s: the Unabomber and Oklahoma City bombing. He then went on to serve as an Assistant U.S. Attorney for the District of Columbia, then a Deputy Assistant Attorney General in the Criminal Division of the U.S. Department of Justice, then Principal Associate Deputy Attorney General and was finally appointed as a U.S. Circuit Judge.
Lynn isn't the only woman who ranks higher for Merrick in his lifetime achievements than a Supreme Court nomination; he also mentioned their two daughters, Jessica and Rebecca (both Yale graduates) in his acceptance speech, calling them the "greatest gift[s]" that he'd ever received, even more so than the nomination. Obama, himself a married man with two daughters, didn't seem insulted. He smiled and patted the judge on the back as he continued his speech. Here's hoping there's more good news about the Garland family coming soon.