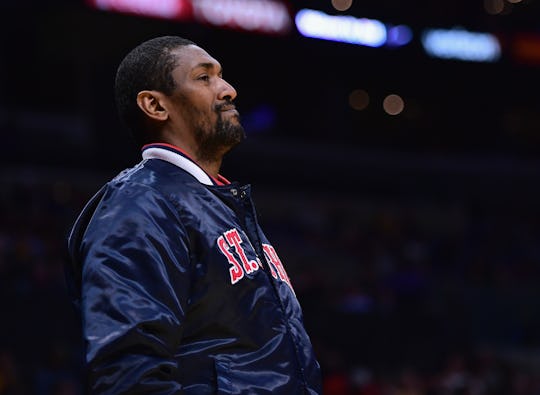 Harry How/Getty Images Sport/Getty Images
Metta World Peace Will Be A Strong Competitor On 'Celebrity Big Brother'
It's time for celebrities to move into the Big Brother house. After many years of watching Celebrity Big Brother take place in the U.K. the Celebrity Edition of Big Brother is finally happening in the U.S. and the cast is incredible. One of the houseguests this season is Metta World Peace, but who is Metta on Celebrity Big Brother? He used to play ball.
Unsurprisingly, Metta World Peace isn't actually the retired NBA player's real name. He was born Ronald William Artest Jr. in Queens, New York. He officially changed his name to Metta World Peace in 2011 and said in a statement he wanted to change it "to inspire and bring youth together all around the world." His four children, Ron III, Sadie, Diamond, and Jeron, have all kept the last name Artest, at least for now.
Metta first started playing basketball when he attended La Salle Academy and then went on to play at St. John's University, before he was the 16th pick for the Chicago Bulls in 1999. Metta then played in the NBA for a number of years, playing for six different NBA teams over the course of his career, including the Los Angeles Lakers and the New York Knicks. He spent most of his time with the Lakers, playing for them from 2009 to 2013 and then returning to the team after a short stint with the Knicks.
Last October he returned to the Lakers as a player development coach for the Lakers' G-League team, South Bay Lakers. Prior to this position, he also coached a high school basketball team in 2015.
Besides his skill on the basketball court, Metta is probably most well known for being a huge part of what's known as "The Malice at the Palace." Back when Metta was on the Indiana Pacers, the team played against the Detroit Pistons on Nov. 19, 2004. In the fourth quarter of a very close game, Metta (still going by Ron Artest at the time) got into a skirmish with Ben Wallace after a foul. This fight then turned into a large brawl that saw players getting into fights with fans in the stands as well. To this day many argue this is still the ugliest incident to occur in sports history.
In the end many players, including Metta, were suspended from playing and had to pay hefty fines. Fans were also punished with many of them receiving probation, community service, and some were even banned from The Palace arena for life.
If you're unfamiliar with Metta from his time in the NBA you may recognize him from his appearance on Dancing with the Stars. He was on Season 13 of the show and was the first person eliminated along with his partner, Peta Murgatroyd, after scoring only 14 points out of 30 for his premiere night dance. You may also be familiar with Metta's ex-wife, Kimsha Artest, who appeared on the first season of Basketball Wives: LA. She is also the mother of Sadie, Ron III, and Diamond.
When it comes to his time on Celebrity Big Brother, you can probably expect to see Metta more focused on working out than on anything else. In his cast bio, he said the most difficult part of living in the house will probably be trying to find a place to work out and if he could he'd take his workout equipment into the house so he could "stay fit." He also said he wished he could take his toothbrush and toothpaste, and I hope someone told him that's allowed or gives these things to him.
You can meet Metta and the other houseguests when Celebrity Big Brother premieres Wednesday, Feb. 7 at 8 p.m. ET on CBS.
Check out Romper's new video series, Romper's Doula Diaries:
Watch full episodes of Romper's Doula Diaries on Facebook Watch.