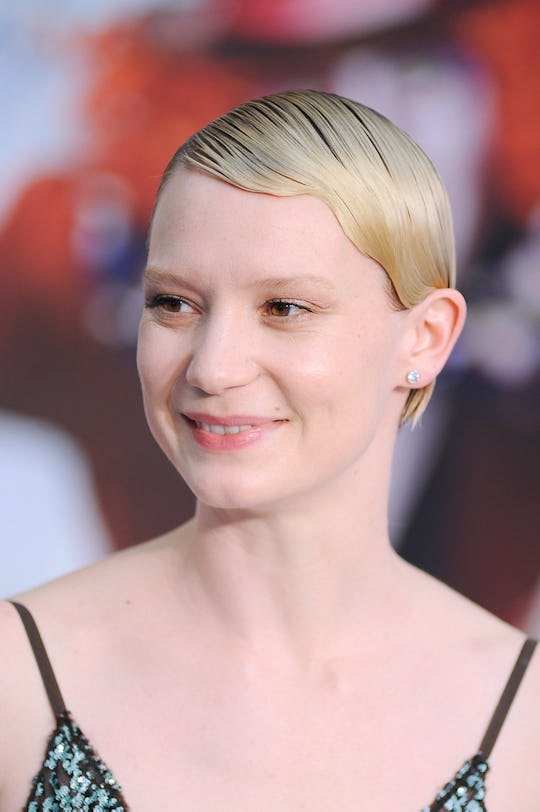 Jeff Spicer/Getty Images Entertainment/Getty Images
Who Is Mia Wasikowska Dating? She's Dropped More Than A Few Unintentional Hints
This Friday, May 27, moviegoers will be able to return to the fantastical world of Alice in Wonderland with the latest live-action Disney sequel Alice Through the Looking Glass. Australian actress Mia Wasikowska will revisit her role as Alice Kingsleigh in the film's adaptation and the film's trailer proves that the blonde beauty has put her heart and soul into the role once again. In recent years, the actress' career has skyrocketed, finding both success and love on and off screen. So, who is Mia Wasikowska dating? The Tim Burton star's love life hasn't been in the headlines lately, but there's reason to believe she's not single.
Wasikowska met The Social Network star Jesse Eisenberg on set of thriller film The Double in 2013, with many reports claiming a romance bloomed soon after. Since then, the pair has been spotted walking hand in hand on the streets of Toronto and sharing goodbye kisses at the airport. The couple have kept their relationship quiet and out of the media, and both have yet to confirm or deny a relationship that those PDA tabloid photos might suggest, according to Us Weekly.
"Wasikowska, it has been made clear, will not be talking about Eisenberg," a profile piece on the blond heroine in The Independent in 2014 read. "Fair enough – the pair are not typical Hollywood stars and their business is just that."
The two have kept their relationship so much out of the public eye recently that one celebrity gossip website Who's Dated Who? said the pair split up after two years of dating, although that would be hard to prove, given that neither of them have ever confirmed a relationship to begin with.
Still, there's reason to believe that might be true. Since 2015, no recent photos of the quirky Hollywood couple have surfaced in gossip mags or across fan sites, so either they've gotten much better at keeping their relationship out of sight or their reported relationship really is on the rocks. Either way, it doesn't seem like they'd dish any of those details to the public.
Wasikowska has been sporting a chic new hairdo as she makes her rounds to promote the much awaited sequel Alice Through The Looking Glass, which hits theaters this Friday, six years since the first film was released. That doesn't mean anything of course, but one couldn't be faulted for wondering whether new 'do = new love life outlook.
Either way, the actress seems a little too busy to be worried about what people think. In a recent interview with Marie Claire, Wasikowska spoke about her return to the beloved Alice character and making the film. "It was really good, I definitely felt like I knew the world a little bit more, and I know what it's like to sort of make a film like this, so I definitely had a level of familiarity with it," Wasikowska said.
Because Alice travels through time in the new film, Wasikowska added that she loves the overall message of the film in that same Marie Claire interview. "You shouldn't try to fix it or fixate on things that have happened," she said. "But just the best way to relate to time in the present day is to accept what happened and to move on in freedom."
Of course, she could only be referring to the fantastical film's message. But the message she acknowledged fits awfully well with any love life too. Right?