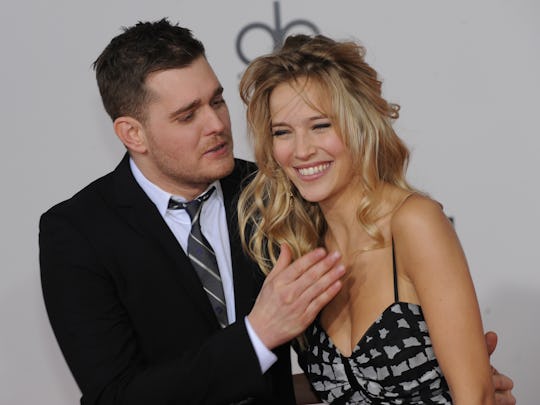 Who Is Michael Buble's Wife, Luisana Lopilato? Their Family Just Got A Little Bigger
On Friday, Michael Bublé took to Twitter to announce that he is officially a father for the second time. And with baby photos on hand, the Twitterverse rejoiced. While everyone knows plenty about the Haven't Met You Yet singer and two-time dad, many don't know much about his wife, Luisana Lopilato. Who is Luisana Lopilato, Bublé's wife and the mother of his two sons? The actress and model is super psyched about the new addition to their family.
"And then there were 4. Introducing Noah's little brother Elias Bublé," the singer tweeted to his 2.6 million Twitter followers, in addition to a photo of himself, Lopilato, and a sleeping Elias. While many celebs shield their kids from the public, the couple has been fairly public about their second child. In July, Bublé posted a video of 22-month-old Noah announcing that a baby brother was on the way. "Who's that in there?" Bublé asks as Noah points to his Lopilato's stomach, according to the New York Daily News. "Baby," little Noah responds. So, it isn't too surprising they didn't hesitate to let the internet know little Elias was here Friday.
Though most people know quite a bit about Bublé, enjoying a song or two of his during the holidays, Lopilato has quite a bit of clout herself. According to Heavy, not only is the 28-year-old an accomplished model, but she was also a child actor and singer. Born in Buenos Aires, Argentina, Lopilato appeared on several telenovelas (Alma Pirata, Chiquititas, Casados con Hijos, to name a few) and also was a part of a band called Erreway, a group born from the series Rebelde Way. Parlaying her television endeavours into a music career, Lopilato produced seven albums from the late '90s to 2009.
Lopilato has also represented brands like L'Oreal, Gillette, and Coca Cola, according to the Daily Mail. In 2013, Lopilato grabbed headlines when she modelled maternity swimwear for lingerie brand Ultimo. She modeled the swimwear while pregnant with Noah, and the campaign was a success — increasing the company's sales by 37 percent, according to the Daily Mail.
But despite all the family's successes, Bublé made it clear that his biggest achievement is his family. In December, Bublé told People that Lopilato was his "best friend" and that their careers come second to their family. "My happiness is to be embedded with these two and they're my whole world, so the truth is I wouldn't be happy without them," he said, according to People:
I find no fulfillment being that Hollywood story that you hear about; that artist who leaves his family on a search for the perfect career. That won't happen here.
Image: Mark Ralston/Getty Images Entertainment;luisanalopilato/Instagram (3)