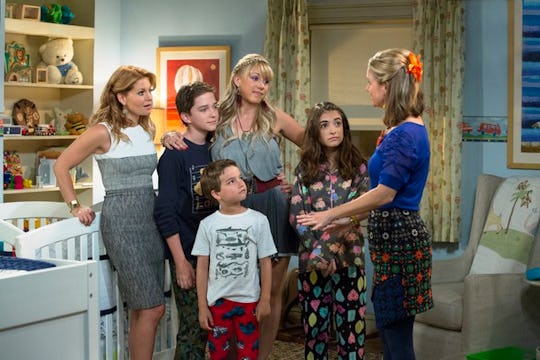 Netflix
Who Is Michael Campion, Aka Jackson Fuller? He's Psyched To Star In 'Fuller House'
A lot of people plan to watch the Full House spinoff, Fuller House, set to begin streaming on Netflix on Feb. 26. And a lot of people are going to feel really, really old. How couldn't you? D.J. Tanner, a high school student in the original show, is a widowed mother of three kids — Jackson, Max, and Tommy — in the new show. Jackson, the oldest, might not look too familiar to most. The 13-year-old actor hasn't been in much yet. But who is Michael Campion, aka Jackson Fuller?
People magazine sat down with the three new child stars starring in the new show, plus one (Andrea Barber, or D.J.'s best friend Kimmy Gibler, now has a daughter, Ramona). David Coulier, or Joey "Uncle" Gladstone, who appears in three of the 13 new Fuller House episodes, told the magazine the young actors were naturals. Campion's most recent claim to fame was a role in Christmas Trade, a film where he played alongside Billy Baldwin and Denise Richards. Parents might have also seen him in Robo-Dog if they have a son under the age of 10. But the young star was particularly excited to land a role in Fuller House — because he's a huge fan of the original show, he told People:
I still can't comprehend that I'm on Fuller House. Exciting is the wrong word. It's way more than excited. It was so cool to see the whole cast because I've watched Full House, I don't know, since I was 3?
The young star new to the small screen is obviously thrilled to be playing alongside some of his own favorite stars, but he is also busy with other new projects, as well. He is already busy shooting the second Robo-Dog, the first of which featured a dad who created a robotic dog to take the place of his son Tyler's (Campion) real dog who died suddenly. Odd, yes, but popular enough for them to shoot another one.
When the first Fuller House teaser was released in December, a lot was revealed about the Fuller kids. In the teaser, viewers can hear Danny tell Jackson to look after his little brother Tommy. Jackson spouts off, "Yeah, yeah, I've got him." It's clear Jackson Fuller has a lot of responsibility when it comes to helping his mom out with his younger siblings. Campion, on the other hand, also has more responsibility than most 13-year-olds because he has to balance being a kid with his full-time acting career. I'm sure it's just a matter of time before the world wants to know more about Jackson Fuller ... I mean, Michael Campion.