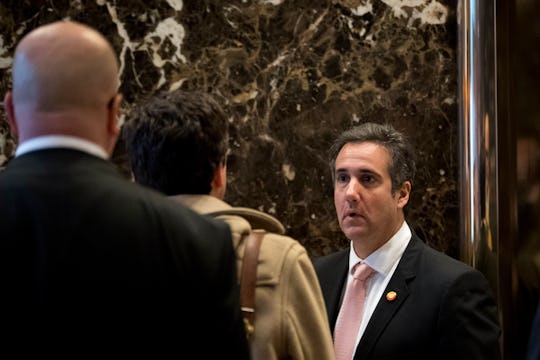 Drew Angerer/Getty Images News/Getty Images
Trump's Lawyer Won't Cooperate With Russia Probe
Congress' investigation into Russia's possible meddling in the 2016 elections has expanded in surprising directions over the last few months, most recently coming to envelop President Donald Trump's son-in-law and senior advisor Jared Kushner in its snare. On Tuesday, the investigation took another step closer to the president, with ABC News reporting that Trump's personal lawyer, Michael Cohen, was recently asked to provide House and Senate investigators with any contacts he had with Russian connections. But just who is Michael Cohen, and how does he fit into the Russia investigation?
Cohen has been Trump's personal lawyer since January, when he left his position as executive vice president and special counsel at the Trump Organization in order to follow Trump to the White House. Before that, Cohen had spent over a decade working with the Trump Organization, according to The Washington Post, but he resigned in January in order to sidestep what he called "perceived conflict."
Romper reached out to the White House for comment, but did not hear back immediately. However, Cohen told ABC News via email that he turned down Congress investigators' request to share "information and testimony" on his contact with anyone connected to the Russian government.
"I declined the invitation to participate, as the request was poorly phrased, overly broad and not capable of being answered," he reportedly wrote to ABC News.
After Cohen's response, the Senate Select Intelligence Committee granted its two chairmen authority to issue subpoenas as they saw fit. Cohen's decision to turn down the investigators' request came just days after former National Security Adviser Michael Flynn invoked his Fifth Amendment rights through his lawyer and turned down a Senate subpoena. Carter Page, who worked as a foreign policy adviser with Trump's campaign team, also declined a committee request for related documents, according to Business Insider.
"They have yet to produce one single piece of credible evidence that would corroborate the Russia narrative," Cohen told CNN on Tuesday, reportedly calling the investigation a "total fishing expedition."
In February, Cohen was brought into the spotlight when reports surfaced of him allegedly attending a meeting with Ukrainian lawmaker Andrii Artemenko and delivering a proposed peace plan for Ukraine and Russia to Flynn (while Flynn was still National Security advisor). At the time, Cohen told NBC News that he had attended a "brief meeting" with Artemenko, but emphatically denied discussing a peace plan or delivering documents to Flynn.
Cohen was also mentioned in an unverified dossier put together by a former British intelligence agent, according to NBC News. The dossier, which included allegations about the Trump campaign and Russia, claimed that Cohen met with a Russian representative in Prague to discuss Russian hacking of the Democratic party. In January, Cohen told ABC News that the dossier allegations were "laughably false" and denied having been in Prague.
There's no word yet on whether the Senate Select Intelligence Committee intends to issue a subpoena to Cohen, but judging by his refusal to participate in the the Russia investigation, this probably isn't the last Americans will hear about him.