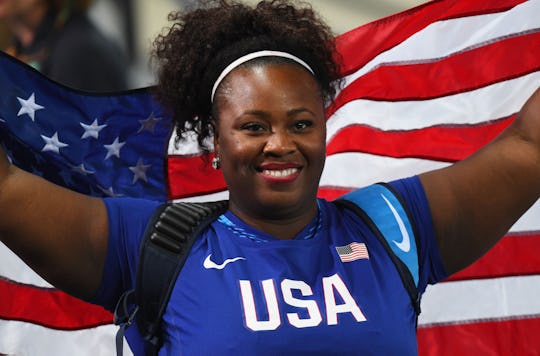 Quinn Rooney/Getty Images Sport/Getty Images
Who Is Michelle Carter? The U.S. Shot Putter Made History In Rio
There are lots of reasons to remember the 2016 Rio Olympics already — some better known than others. Like Michelle Carter, the U.S. shot putter that made straight up history this Friday. With a distance of 20.63m meters (that's like 67.825 feet), won the first U.S. gold medal in the event — that's the first U.S. gold ever, scooped up by an black woman. Back in 1960, shot putter Earlene Brown won the only bronze, and the only medal, won by Team U.S.A., in the event. So Carter is really bringing back shot put. That's pretty cool. Even cooler is that she's following in her father's footsteps. Her dad. Michael, won a silver medal at 1984 games in Los Angeles in the very same event.
The Carters aren't the only father-daughter duo to make Olympic appearances. According to Olympic historian Bill Mallon, there have been 230 father-daughter's worldwide who have competed in the games, and only 26 have both won medals. Only 15 of those duos have been American and none of them have ever won a medal, let alone a gold. It wasn't an easy event on Friday. New Zealand's Valerie Adams was looking to win three consecutive gold medals and threw 20.42m (or 67 feet exactly). Carter beat her with 20.63m.
After the Olympics, Michael went on to be a football player and won three Super Bowl's with the San Francisco 49ers as a nose tackle. The Carters don't mess around. Michelle said that she's ready to tease her old man, which must be something only athletic families can only dream of doing. "Of course, I can't wait until I get the medal and I can walk around the house and say 'Daddy, I got you,'" she told Team USA.
But her dad has also been her coach since the moment she told him she wanted to try to the shot put and he thought she was joking 26 years ago, when she was in the 7th grade. "Who put you up to it?" he remembered asking her at the time.
But she was dead serious. So they worked and worked and worked. Her first Olympics was in Beijing in 2008 where she was 15th and then she finished 5th in London in 2012. This gold medal has been hard earned over time. When she's not training, competing, or taunting her father with her better distance (I would do it, too), Carter is a certified professional makeup artist, according to NBC, and her friends and clients call her "Shot Diva." Doing professional makeup is just as intricate as shot putting — every little thing matters.
Her dad was watching with bated breath on Friday morning. He told Team U.S.A., "All I could do was just pray in that moment, 'You know what, Michelle? You have to give it your all. This is it.'" Carter said. Luckily, that was all she needed to make history.