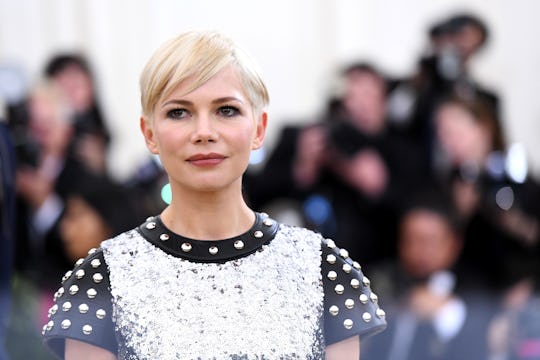 Noam Galai/Getty Images Entertainment/Getty Images
Michelle Williams Says Her Husband Makes Her Feel "Free"
Everyone was surprised when it was revealed on Thursday that Michelle Williams had gotten secretly married earlier in the month — especially since the extremely private actress never talks about her relationships. She had never even confirmed that she and her now-husband were dating. So let's dig into who Michelle Williams' husband is, because this totally came out of nowhere. In the September issue of Vanity Fair, Williams decided to break from her tradition of staying silent about her personal life and discuss her husband, musician Phil Elverum.
Williams' most public relationship was with late actor Heath Ledger, who passed in 2008. The couple were together for three years and had a daughter, Matilda, together. But eventually, according to People, his drug use drove them apart, and shortly thereafter he died of an overdose when Matilda was just two years old. But Williams still had hope. "I never gave up on love," she said in her Vanity Fair interview. "I don't really want to talk about any of it. But there's that tease, that lure, that's like, What if this helps somebody? What if somebody who has always journeyed in this way, who has struggled as much as I struggled, and looked as much as I looked, finds something that helps them?"
It looks like she's finally found her perfect mate in the indie musician, Elverum, who she met through a mutual friend. The former frontman of the Microphones, who now performs solo under the name Mount Eerie, lives a similarly private life. And like Williams, Elverum also lost someone very close to him — his wife, the illustrator and musician Geneviève Castrée.
Following her passing, Elverum spoke candidly about his loss and his life in interviews with the media. He has recently released two albums, 2017's A Crow Looked at Me and Now Only, which was released in March of this year. Reviews of the albums praise their depth and honesty about grief and loss. In a radio interview in Washington state, where the singer-songwriter lived for many years, Elverum spoke openly about his wife's cancer diagnosis and the struggles that came afterwards. Castrée was diagnosed shortly after the birth of their daughter, compounding the already painful situation. A profile of Elverum in Pitchfork, conducted just a few months after Castrée's death, paints a picture of a man still learning how to survive on his own (and with a toddler in tow). But luckily, it looks like Elverum's life has taken a turn for the better.
In the Vanity Fair profile in which the marriage was first announced, Williams gushes about her now-husband saying, "I am finally loved by someone who makes me feel free." According to the article, Elverum has moved from his small town home in the Pacific Northwest to live in Brooklyn with Williams and their two daughters.
Understandably, people want to know more about the couple and if they're happy now and why they got married so secretly. But both Williams and Elverum have made it quite clear that they value their families' privacy above all, so it's unlikely that any further details are going to emerge. Therefore, all I will say is congratulations to the whole family, and I hope they all get the privacy and peace they so deserve.