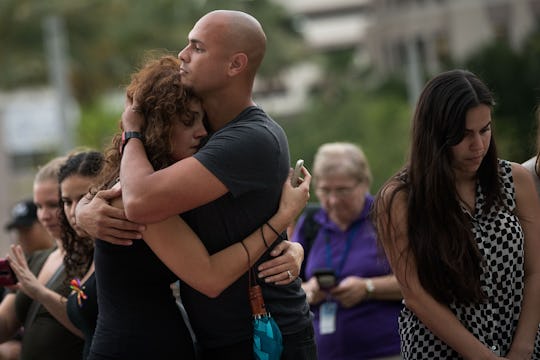 Drew Angerer/Getty Images News/Getty Images
Who Is Miguel Angel Honorato? A Family Man & Father Of 3
Say his name. Miguel Angel Honorato Sr. Honorato, 30, was one of the 49 victims who lost their lives in a deadly mass shooting at an Orlando gay club called Pulse in the wee hours of Sunday morning. Like the 48 other victims, Honorato's life was cut short due to a horrific, targeted, and homophobic act by a gunman who opened fire at Pulse, injuring at least 53 other victims. Who is Miguel Angel Honorato? He was a father of three.
Honorato was a native of Mexico, and was living in Apopka, Florida, at the time of his death. His Facebook page, now a dedication to his memory, indicates that he worked at a catering company called FajitaMex Mexican Catering. In a sit-down interview with MSNBC (at a restaurant said to be owned by the Honorato family), Honorato's older brother, Jose Honorato, described some of Honorato's special qualities.
"My brother was a hardworking man, he was a boss," Jose Honorato said. He described his younger brother as a family man, someone who would often have breakfast with his mom and family. He had three children, MSNBC reported.
Jose Honorato posted an obituary to his Facebook page honoring his brother. According to the obituary, Honorato was born in Guerrero, Mexico, and was married to Minerva Honorato. The obituary names his three children, Joel, Julian, and Miguel Jr., and seven siblings, Jose Honorato, Odilla Honorato, Yedic Honorato, Alex Honorato, Johnny Honorato, Denny Honorato, and Enrique Honorato. A funeral service for Honorato will be held at the St. Francis of Assisi Catholic Church on June 21, the obituary read.
Enrique Honorato wrote a Facebook post in honor of his brother, remembering the good times they spent together:
R.I.P Brother Miguel Honorato, man i wouldve never thought this would happen to you... I remember the good old times when we went to mexico and the days we went to tennessee. I cant face the fact that my Blood Brother is gone. I went with you to the mall and told me you liked that mango lemonade from auntie annes and how you liked them pumas you got. Man i miss you so fucking much brother. Im never going to forget you . May your soul rest in peace Brother I love you so much
Honorato's life was tragically cut short, and his family and loved ones are left to mourn his death. Here's to honoring Honorato and keeping his memory alive.