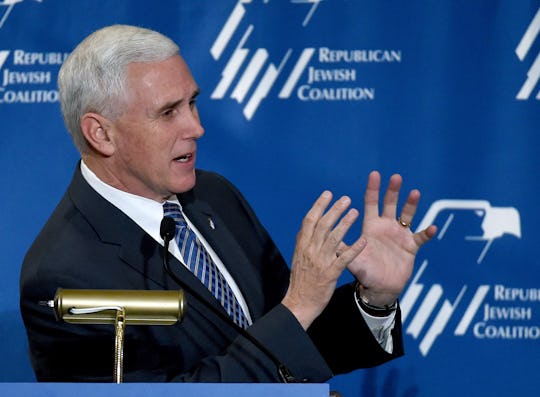 Ethan Miller/Getty Images News/Getty Images
Who Is Mike Pence? Trump Reportedly Chose The Indiana Governor As His VP
With the Republican National Convention just days away, all eyes are on the party's presumptive Presidential nominee Donald Trump. Many are wondering what Trump will say and do if he secures the nomination, and many are waiting to see who Trump's right-hand man (or woman) will be — who will be Trump's running mate and the Republican party's 2016 Vice Presidential candidate? Well it appears that question many have been answered. According to Roll Call, Trump has asked Indiana Gov. Mike Pence to take the coveted spot. But who is Mike Pence?
UPDATE: Trump confirmed Pence as his vice presidential running mate in a tweet Friday morning and said he would host a news conference on Saturday.
Pence is a husband, a father, a career politician, and a born-again Christian. However, during a 2010 appearance on the Christian Broadcasting Network, Pence explained that he is a Christian before anything else, according to NPR:
For me it all begins with faith; it begins with what matters most, and I try and put what I believe to be moral truth first. My philosophy of government second. And my politics third.
Pence served in the U.S. House of Representatives for 12 years, has been Indiana's governor for the last three years, and according to NBC, Pence has held "leadership positions" in various conservative groups. As such, he may just be the perfect counterpart to Trump, thanks to his lengthy and varied political and experience.
Those close to Pence describe him as a uniting force; in fact, Pence's longtime friend Jeff Cardwell told NBC that Pence "is one of those people who works very hard to unite to bring people together as a team. He will be seen within the party as a person who can unite and bring people together."
And in an interview with CNN, Newt Gingrich — one of Trump's other "top choice" candidates — agreed, stating he would not be surprised if Pence received the nomination:
Mike's got a lot of strengths and he's substantially younger. I'm two years older than Trump and Pence is 20 years younger than me. I think having somebody who represents a somewhat younger voice would have some advantages.
However, while Pence may be a strong contender, he too has faced his fair share of controversy. Just last year, he became the target of national condemnation after signing the controversial "religious freedom" bill, a bill that, according to MSNBC, many believed would make it easier for those in Indiana to discriminate against LGBT people. (The bill has since been amended.) And earlier this year, Pence approved a law that would ban abortions performed solely because of the fetus's race, gender, or appearance of a disability.
It should be noted that Pence has not officially received the nomination, nor has he officially accepted. In fact, according to Trump's senior communications advisor Jason Miller, Trump has not yet picked his running mate — though he will be making that decision in the near future:
If Pence is going to run as VP, he only has until Friday to remove his name from his state's ballot. (Pence is currently running for reelection in Indiana.) However, according to the The Indianapolis Star, Pence is already working to drop "his re-election bid in Indiana to become Donald Trump's running mate."
Trump is scheduled to make his official selection Friday at 11 a.m.