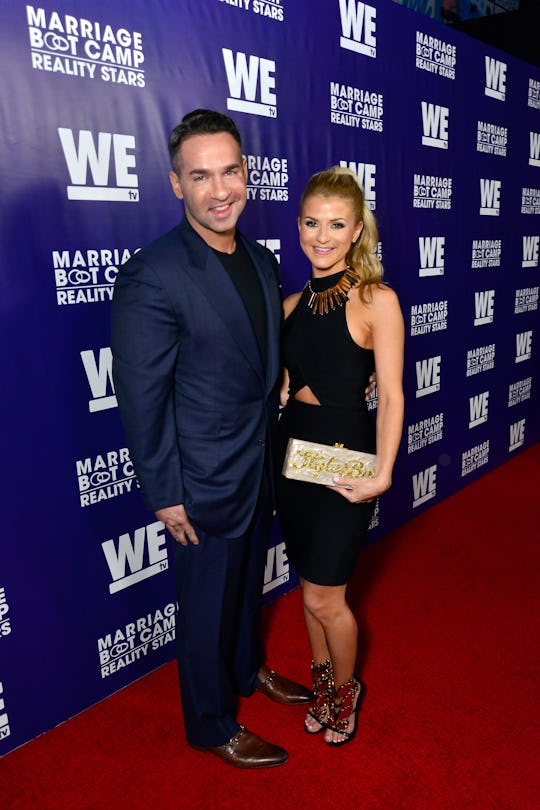 Jerod Harris/Getty Images Entertainment/Getty Images
'Jersey Shore's Mike "The Situation" Sorrentino Is In A Serious Relationship
MTV's Jersey Shore was never without its romantic entanglements (if one were to be so generous with terminology) but these days the cast is a little bit older and a lot more settled. Many of them are married with kids or in committed relationships, which is quite a departure from the show fans remember. Even noted grenade-dodger The Situation is serious about someone. But who is Mike "The Situation" Sorrentino dating? She could be "the one."
Mike has been in a relationship with Lauren Pesce since college, though they took a break during his Jersey Shore days. According to People, they got back together not long after the show ended and seem to have been steady ever since. Mike credits Lauren with being there for him during the toughest times of his life, including when he struggled with his addiction to prescription pills. He attended rehab in 2012 and was sober for years afterwards until a cracked rib led to a relapse in his dependence on painkillers.
It seems like that put some strain on Mike's relationship with Lauren, and they addressed those difficulties when they appeared on Marriage Boot Camp together. But despite everything they've been through, they're still involved and show no signs of splitting. Mike told People how helpful their joint reality TV stint was for them, saying:
You sort of learn how other people communicate and [that] they're coming from a different perception or a different view, and you have to value that view and listen to respond.
Both Mike and Lauren spoke to FHM about their relationship, giving a little more insight into how things have developed between them over the years. Lauren brought up their first meeting in a college math class, describing it as an instant connection that deepened with time. She said:
We immediately hit it off and basically started dating then and there. I absolutely think it's super important to become friends in the beginning stages of dating. If you take the time to get to know each other you naturally form a level of respect and value for the other person and that becomes the solid foundation to the future relationship. We are lucky to be each other's best friends, as cheesy as that sounds.
They both spoke about the importance of communication and honesty, as well as not losing their sense of fun. They've been together for 15 years at this point and haven't been apart for much of that time, according to Lauren. She works as a blogger (her fashion and lifestyle site is The Style Bae) and realtor, which allows her to do her job from nearly anywhere and travel with Mike when the situation calls for it.
It's unclear if Mike and Lauren are engaged at the moment. A 2014 E! News article mentioned that one of Mike's lawyers referred to Lauren as his fiancée while requesting a postponement in his ongoing tax evasion case. However, in a 2017 interview with In Touch Weekly, Mike made it sound as though an engagement was imminent, but hadn't happened yet. He said they were "working towards" getting engaged and starting a family, but he was having some trouble making sure his question-popping was a surprise. Talking about it in interviews probably does kill the shock factor somewhat. Lauren reiterated that stance when chatting about their Marriage Boot Camp appearance with OK!, saying:
I think the opportunity just came up for us and we're at a point in our relationship where we are getting ready for the next step. We thought it'd be a test run before [marriage]. And it definitely did strengthen our relationship.
Though things might not be official between The Situation and his longterm girlfriend, there's every indication that they're in it for the long haul. It's probably just a matter of time until they're walking down the aisle.
Check out Romper's new video series, Romper's Doula Diaries:
Watch full episodes of Romper's Doula Diaries on Facebook Watch.