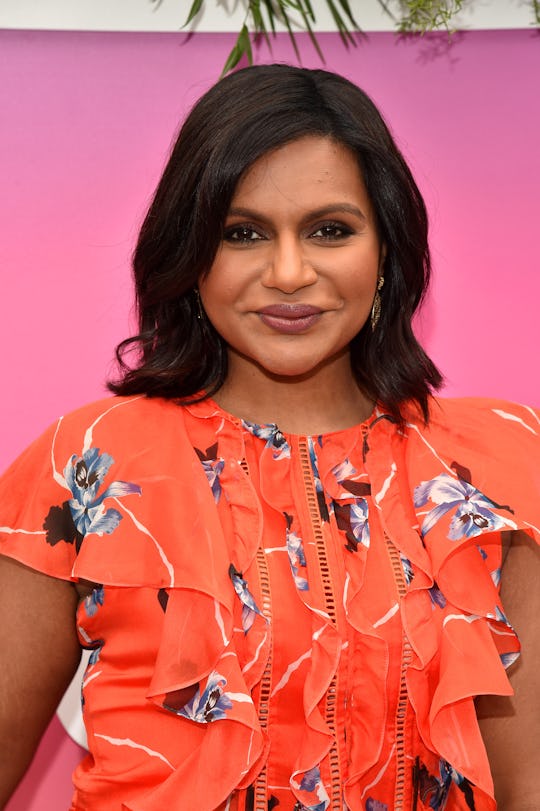 Bryan Bedder/Getty Images Entertainment/Getty Images
Who Is Mindy Kaling Dating?
Mindy Kaling has some huge changes ahead. On Monday, E! News, citing unnamed sources, reported that the actress, comedian, and writer pregnant with her first child, throwing fans for an unexpected loop (Romper has reached out to Kaling's rep for comment on the pregnancy report and is awaiting a response). Seeing as this was, according to a source, "an unexpected surprise," many are wondering: Who is Mindy Kaling dating?
Thirty-eight-year-old Kaling has had a couple of well-known, long-term relationships. She dated writer Benjamin Nugent from 2008-2012 and B.J. Novak — her co-star from The Office — from 2005-2007. In March, Sen. Cory Booker asked Kaling to dinner over Twitter and, though she responded yes, it appears that nothing ever came of the invite. So is Kaling dating anyone?
In a March episode of Ellen, the host introduced Kaling as "very single." So, Kaling is either keeping her personal life a secret (which, honestly, who could blame her) or, she's just that — a single woman, pumped to have a growing family of her very own.
Though she's not in a super publicized relationship, Kaling has alluded to her desire to have children before, so fans might have seen this coming. In 2015, she told Yahoo! Style that a baby might be in her near future, explaining,
I think I've decided that unlike everything else in my life, I'm going to be fast and loose about kids. I'm going to not actively plan, but if it happens, it would happen maybe imminently.
She also explained that, despite being "fast and loose about kids," her child's father would be deeply considered. "I'm not cavalier about who I would have a kid with," she shared, while noting: "The thing I ask every parent that I really admire, the one comment they all have is that they wish they had kids earlier." Honestly, then, there's no time like the present!
No doubt about it: Kaling's going to be a great mom. Her brand of lighthearted, empathetic, supportive comedy blooms through her books, screenplays, and scenes. Kaling's own mother died in 2012, and she has used that loss to connect with other, hurting people. In a 2016 Mother's Day Instagram post, she asked:
For those of us who miss our moms, or who miss your kids, Mother's Day can be really tough. To all of you in that boat, I send my fiercest hug and love. What was your mom like? What was your kid like? I wanna know!
Kaling also took a moment in the post to brag on her own mom, noting that she "was the most hard-working doctor and glamorous person. She always dressed up, even when she had to leave in the middle of the night to deliver babies. When I saw her I felt so lucky. Also, she was hilarious."
Seems like the apple didn't fall far from the tree, then. No matter who she chooses to invite into her life and the life of her baby, Kaling's got a sweet heart and a sensitive soul, which are the most nurturing qualities a child could ever need. One thing's for sure: The world could definitely use another Kaling.