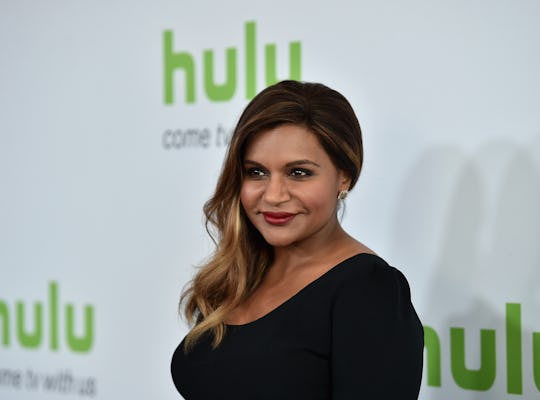 Alberto E. Rodriguez/Getty Images Entertainment/Getty Images
The Father Of Mindy Kaling's Baby Is None Of Your Business
It's a super exciting day for fans of The Office and The Mindy Project! After news broke on Monday that Mindy Kaling was pregnant with her first child, fans began buzzing about all the details. While little is known about the 38-year-old actress' impending bundle of joy, the one question people shouldn't be wondering is who the father of Kaling's baby is — because, frankly, it's none of our business.
According to E! News, one source said that Kaling's first pregnancy is "an unexpected surprise" and she will not be making any changes to the production timelines for her upcoming projects, such as A Wrinkle in Time, Ocean's Eight, or the final season of The Mindy Project. And until Kaling makes an official statement regarding her pregnancy, that's all the information that's relevant for the moment. (Romper has reached out to Kaling's rep for comment on the pregnancy report and is awaiting a response.)
Announcing your first pregnancy is a meaningful and memorable experience that soon-to-be moms can only experience once. And since Kaling hasn't shared the news herself yet, it's impossible to know how she wanted her fans to find out or if she was even ready for it to be plastered across headlines.
As for who the father of Kaling's little one is, there are a lot of possibilities out there. She could very well be in a relationship with someone and has kept the details of it out of the public eye. Or she might not be. Either way, this part of her pregnancy is none of our business until she makes it clear that she wants the world to know.
While it's understandable that fans are dying to know every possible detail, Kaling has still kept mum about Monday's news. She has, however, previously talked about the possibility of having kids and how it would likely happen for her down the road.
"I think I've decided that unlike everything else in my life, I'm going to be fast and loose about kids," she told Yahoo! Style, according to E! News. "I'm going to not actively plan, but if it happens, it would happen."
And she's even touched on what type of person she'd want to have children with, saying that she would not be "cavalier" with this decision, according to the Yahoo! Style interview.
As of two years ago — and a lot can happen in that time frame — Kaling told In Style that she didn't "have a particular urge to get married," but her outlook on starting a family one day has always been concrete.
"I do know with certainty that I want to have kids, because my relationship with [my mom] was so special," she told In Style in 2015.
Although very little is known about Kaling's rumored pregnancy, it's incredibly exciting news. And — for the time being — those unknowns are probably very special to the expectant mom, so fans will have to wait patiently for when — and if — she decides to share them.