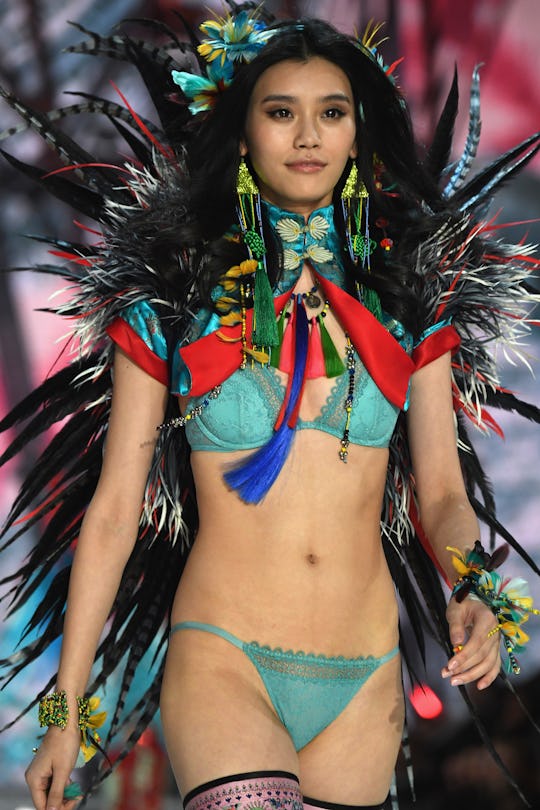 Pascal Le Segretain/Getty Images Entertainment/Getty Images
Who Is Ming Xi? The Chinese Beauty Will Walk In Her 4th Victoria's Secret Fashion Show
The Victoria's Secret Fashion Show hasn't even officially been broadcast yet, but some may have already gotten a sneak peak at a few stunning Victoria's Secret angels in extravagant numbers. And from last week's event in Paris, some photographs and stories from the runway have already dominated headlines, including Bella Hadid's uncomfortable encounter with ex The Weeknd and Irina Shayk's tastefully covered-up, but unconfirmed baby bump. Of course, those are just two stories of the 51 beauties walking in the Victoria's Secret Fashion Show, so what about the others? Specifically, who is the buzzed-about Ming Xi? The Chinese beauty has already walked in the last three Victoria's Secret shows, but her modeling career is packed with international experience.
The 27-year-old model — who was born on March 8, 1989 in Shanghai, China — is one of four Chinese models to walk in the 2016 Victoria's Secret Fashion Show, a first in the epic show's annual history. In addition to Ming, supermodels Liu Wen, Sui He, and Xiao Wen Ju will also strut their stuff at the this year's show.
Ming is no stranger to Victoria's Secret as she regularly showcases the brand's "little sister" line, PINK. But, her modeling career took off well before Victoria's Secret, officially starting in 2010 after her first well-known runway debut for the Givenchy Haute Spring Show. The same year, Ming also walked in shows for Christian Dior, Vivienne Westwood, Kenzo, and John Galliano in Paris. And just a years later in the winter of 2011, Ming also walked the runway at the famed New York Fashion Week.
Soon after this wave of success in less than two years in the fashion world, Models.com — an influential industry guide — called her the "most promising" newcomer to the industry and she was later named as a top supermodel of the world by Audrey, a now-defunct magazine that covered Asians and Asian Americans in popular culture and fashion.
"Even now I don't believe I am really a model, it's very surreal to me," Ming told CNN back in 2011 of her sudden success. "I had no preconceptions about this career, I tend to just go with the flow. I never really gave [being a professional model] too much thought before. That said, I absolutely love what I'm doing now."
In recent years, the company has made progressive strides in diversifying the models it showcases at the Victoria's Secret Fashion Show. It may have taken a while to get here, but the gorgeous batch of beauties, Ming included, has gotten more and more balanced — and that's a win for everyone.