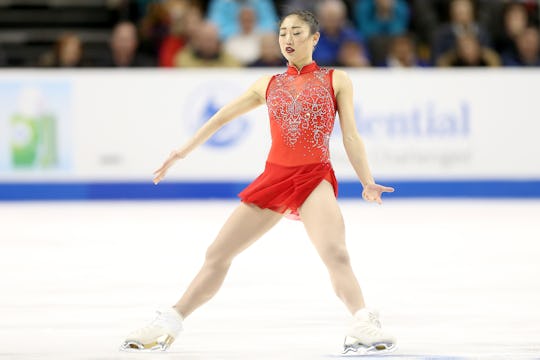 Matthew Stockman/Getty Images Sport/Getty Images
Winter Olympics 2018: Everything You Need To Know About Team USA Figure Skater Mirai Nagasu
With the 2018 Winter Games in PyeongChang upon us, you're definitely going to brush up on your favorite Olympians. A great place to start is the Team USA's Olympic figure skating team, since they're due for a win. If you don't know her yet, you'll likely be wondering who Mirai Nagasu is as she takes the ice, and luckily I have your back and all the essential details.
Nagasu is a 24-year-old figure skater from California and this is not her first time representing Team USA. According to her website, she's a three-time Four Continents medalist and a seven-time U.S. national medalist. She competed in the 2010 Olympics, but then didn't make the team in 2014, so this is a very big year for her. In 2008, according to the Los Angeles Times, she became the youngest woman since Tara Lipinski to win the U.S. women's title, which is a huge honor.
She's been skating her entire life and she's very proud to still be on top of her game. NBC's Olympic site reported that she said on a conference call with reporters, "No one can take away the fact that — although I haven't won my title back yet — I've been a medalist and a top contender for the last 10 years [on the national level]."
She added, "That's because people have pushed me and I've pushed myself. That's a long time to be at the top of the game."
She has to be excited, especially since no American woman has taken home the gold for figure skating since 2002. But that whole time, Nagasu has been competing and winning other championships. According to the Chicago Tribune, she's been perfecting her triple axel — which is three and a half rotations in the air — so be sure to keep your eye out for that. If she lands it, it's all because she didn't make the team in 2014, as "heartbreaking" as that was, according to the same interview with reporters. According to the Chicago Tribune, Nagasu said:
I don't think I would've worked as hard on the triple Axel if I hadn't had that time [after Sochi] to concentrate and decide to. It was a conscious decision to make a comeback — even though I hadn't taken a break.
Tonya Harding in 1991 and Kimmie Meissner in 2006 have been the only American women to pull it off besides her. She told People, "All the other ladies are not yet able to do [the triple axel]. It's kind of like a board game. So, that's my 'king.' So I want to use it as many times as I can."
Nagasu told Teen Vogue that she's just looking forward to being at the event and soaking it all in. She said in an interview with the news outlet that she was mostly looking forward to the "addicting" Olympic energy.
"It's just a lot going on, and it's just everything on a high, intense level. And to have so many countries and so many sports and so much going on, it's really amazing," she told Teen Vogue. Nagasu added in the same interview, in September before knowing that she would on the team:
And to be able to be a part of that, out of the millions of people who skate, and then to represent my country at the Olympics, that's only something that two or three people from the country get to do every four years, for my sport. And so if I am selected to represent again, that would be like goals. That's a dream.
After she made the team, the Pasadena Figure Skating Club started a YouCaring fundraiser so that her family and boyfriend could go to South Korea and root for her. The organization wrote, "Now that Mirai's made the team, we need to help her have a solid support system in place in PyeongChang." Luckily, enough people chipped in an raised over $14,000 for them to take the trip.
So keep your eyes peeled for that triple axel during the Olympics. And Nagasu's family and boyfriend cheering her on in the stands.
Check out Romper's new video series, Romper's Doula Diaries:
Watch full episodes of Romper's Doula Diaries on Facebook Watch.