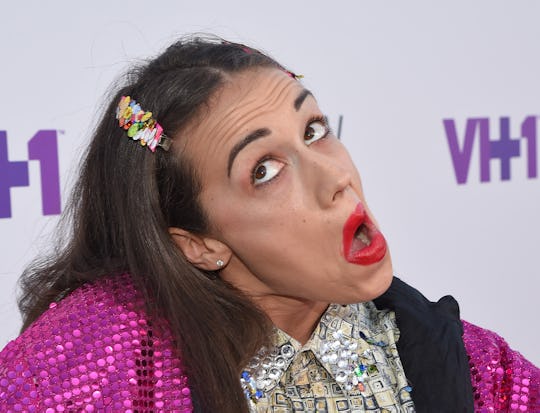 Mike Windle/Getty
Who Is Miranda Sings? The 'Haters Back Off' Star Is Kind Of Addicting
Miranda Sings is the pinnacle of satiric and ironic perfection. She is a character created by Colleen Ballinger, and started simply as a parody of young women with little talent who created Youtube channels hoping it would make them famous. This, as it turned out, made Miranda incredibly famous. And now Miranda is branching into a Netflix scripted series Haters Back Off!. Who is Miranda Sings? She is a character and a creature of our time. Perhaps the character of our time.
Ballinger has said that the character of Miranda was based off of the girls who took acting and voice lessons with her. These young women were apparently not nearly as talented as they thought they were, but arrogant and self-assured enough to post countless videos of themselves singing in their bedrooms. Miranda is the absurd extreme of this. She is infantile, arrogant, self-deluded, porn-fearing, and a terrible, terrible singer. She parodies popular music videos like Taylor Swift's "Shake It Off" and Sia's "Chandelier." She has claimed to be various celebrities' acting and voice coaches. She is brilliant, hilarious, and oddly endearing in her oddball-ness. Honestly, I had never heard of her before the Netflix show, and now I'm slightly obsessed with her. Slightly.
What started as an inside joke between friends has now propelled Miranda to enormous fame. She has appeared on Comedians in Cars Getting Coffee with Jerry Seinfeld, and has been touring for live shows in character since 2009. Now, she's embarking on her biggest project yet, Haters Back Off! which Ballinger is working on with her brother, Christopher Ballinger. In an interview with The Verge she said, "When I first started doing the character, it was just me all by myself — writing and producing and doing everything alone. Then I paired up with my brother, Christopher, who's also my co-creator / co-producer / co-writer on Haters Back Off!. Six or seven years ago, we started developing the idea of Miranda's world. We were actually writing a movie, but then we quickly realized we had so much more story to tell that we wanted to make it into a TV show."
I cannot wait to see what Miranda's world really looks like, and maybe what she has planned next.