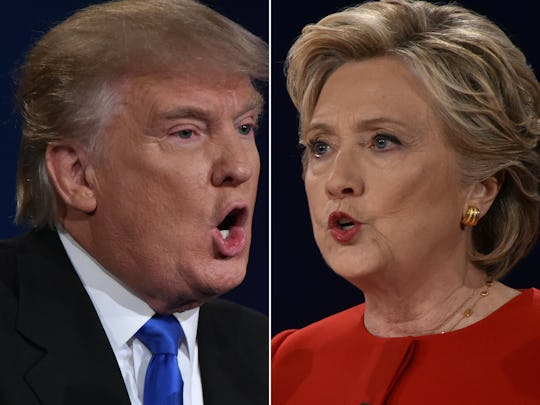 PAUL J. RICHARDS/AFP/Getty Images
Who Is Moderating The Second Presidential Debate? It's Going To Be An Important One
After the first presidential debate, both the candidates and viewers seemed ready for another showdown. But the next debate is likely going to be even wilder, now that the candidates know what to expect from each other, and it's all up to the moderators of the second presidential debate to keep Hillary Clinton and Donald Trump in line as they discuss their policies and try convince voters that they're The One. This debate will be held at Washington University in St. Louis, Missouri on Sunday, Oct. 9 and will be moderated by CNN's Anderson Cooper and ABC News' Martha Raddatz. But both moderators will be taking a back seat this time around since the debate is going to be a town hall format and half of the questions will be asked by members of the audience.
The audience members are all undecided voters chosen by the Gallup Organization. Half the questions will come directly from the participants, and the other half will be asked by the moderators based on "topics of broad public interest as reflected in social media and other sources," according to the Commission of Presidential Debates. If you're worried about what the audience is going to ask (or not ask), you can still submit a question for the town hall debate this weekend yourself. So, unlike the first presidential debate, where moderator Lester Holt was able to choose the topics and asked his own questions, Cooper and Raddatz will just be the messenger for the American audience.
Each candidate will have two minutes to answer the question and then have an extra minute for the moderators to ask follow up questions. If the moderators get a chance, that is. During both the first presidential debate and the vice presidential debate between Virginia Sen. Tim Kaine and Indiana Gov. Mike Pence, the moderators were often drowned out as the candidates bickered amongst themselves and interrupted each other.
Cooper and Raddatz are seasoned journalists and known for being tough questioners — which is probably why the CPD chose them for the free-for-all that the town hall style debate can become. Former CNN Washington bureau chief Frank Sesno told Mike Smerconish on CNN that the job of a moderator is "to be both a journalist, a moderator, and a circus navigator." If the past debates are any indicator, it's more circus navigator than anything else. Cooper and Raddatz definitely have their work cut out for them.
But whatever happens, it's pretty much a guarantee that these two moderators will come with tough follow-ups. Raddatz is a specialist in military affairs and hosted the 2012 vice presidential debate between Joe Biden and Paul Ryan, as well as two other primary debates for each party. Cooper has experience, too: He hosted two primary debates and a presidential forum in this election already, and he's also known for not picking sides and being tough, so the candidates should be ready to have real answers. Trump has already started calling foul by saying that Cooper is biased against him, but the CNN anchor has also been pretty hard on Clinton in past interviews, so don't expect too many pulled punches.
Between the American voters, Cooper, and Raddatz, the upcoming debate proves one thing: Clinton and Trump better be doing their homework.