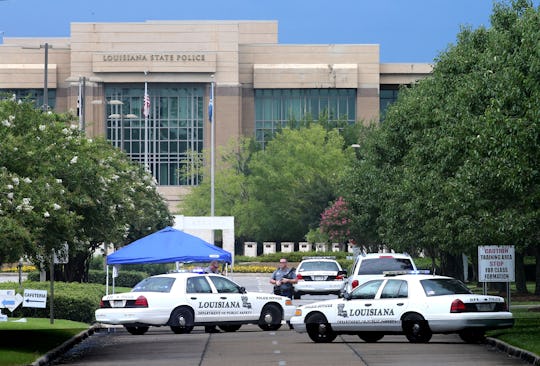 Sean Gardner/Getty Images News/Getty Images
Who Is Montrell Jackson? The Baton Rouge Officer's Last Facebook Post Is Heartbreaking
On Sunday morning, just days after the Dallas attack that left five police officers dead, a second attack on police officers occurred: A gunman in Baton Rouge, Louisiana killed at least three police officers and left several others injured. As details have emerged regarding the shooting, the public has been learning more about the scene that unfolded, and the names of the victims have slowly begun to surface. According to the Associated Press, Montrell Jackson was one of the Baton Rouge officers killed Sunday morning.
According to The Advocate, Jackson had been with the Baton Rouge Police Department for over a decade, and had recently welcomed a son, Mason, now four months old, with his wife. In 2007, he suffered from smoke inhalation when trying to save an infant from a burning building.
More recently, Jackson posted an emotional message on Facebook, days before his death, detailing the difficulties of being both a black man and a police officer in his city. It was written on July 8, three days after Alton Sterling was killed by police in Baton Rouge. Jackson wrote:
I swear to God I love this city but I wonder if this city loves me. In uniform, I get nasty hateful looks, and out of uniform some consider me a threat. I've experienced so much in my short life and these last 3 days have tested me to the core.
"I'm tired physically and emotionally," Jackson wrote. "I'm working in these streets so any protesters, officers, friends, family or whoever, if you see me and need a hug or want to say a prayer. I got you."
Another police officer and a sheriff's deputy were killed in the attack. One police officer was critically injured, and another two were wounded less severely. After the shooting, President Barack Obama said during a televised address, "We as a nation have to be loud and clear that nothing justifies violence on law enforcement. Attacks on police are an attack on all of us, and the rule of law that makes society possible."
Obama also called for unity during a time that can often feel divisive:
Around the clock news cycles and social media sometimes amplify these divisions. That is why it is so important that everyone: regardless of race or political party or profession, regardless of what organizations you're a part of, everyone right now focus on words and actions that can unite this country rather than divide it further.
Jackson's call for unity were an honest reflection on recent events, and hopefully his words will be heard long after the tragic events in Baton Rouge.