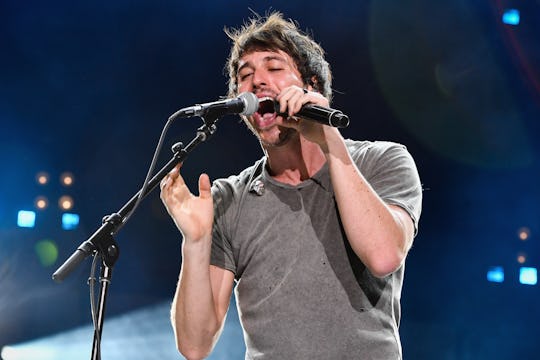 Erika Goldring/Getty Images Entertainment/Getty Images
'Bachelorette' Guest Star Morgan Evans Has A Great Love Story
Concerts are a one-on-one date staple on The Bachelor and Bachelorette, but the performers don't usually make news beforehand. A certain Australian singer that'll appear on the show changes that a bit. Who is Morgan Evans? He will show off his skills on The Bachelorette.
Evans is an Australian-born singer and songwriter who released his debut, self-titled album in 2014, which went to number one on the Australian country charts. Since then, Evans married American singer/songwriter Kelsea Ballerini in 2017, and they both reside in Nashville. 2017 seems to have been an amazing year for the musician as that's the year that Evans signed with Warner Music Nashville and dropped a single about Ballerini and their marriage called "I Do."
"Wrote it about my girlfriend. Recorded it about my fianceé. Releasing it about my wife ..." the singer said on Twitter.
Just from this seriously aww-worthy moment alone, Evans seems like a natural fit for The Bachelorette. In April, it was announced that Evans will be performing his single "Kiss Somebody" on the show, which is extremely apt. The YouTube video has over 1 million views, so it's fairly popular — and I'm sure will be appreciated by Becca and her date. According to his Instagram account, Evans recorded the episode and the concert on April 9. Apparently, though, the love song is not about his wife.
No, "Kiss Somebody" is apparently not about Evans at all. "It was inspired by a mate of mine, actually. I used to stay with him in Nashville before I moved here, and he went through this really rough breakup and he was devastated," Evans said in an interview with Eagle Country. "And I was with him through that period, and I went back to Australia. A year and a half later, I came back and he was still devastated over this situation. And I was like, 'Dude! You need to kiss somebody!'"
Evans told the same story in an interview with Sounds Like Nashville. Morgan Evans also revealed that he's putting the finishing touches on his next album, so hopefully we see (and hear) that project soon.
Country music may have started in the United States — and many view the genre as quintessentially American, Australian-born Evans argues that it can be for everyone. On living in Nashville as opposed to Australia and singing country music he said in the Sounds Like Nashville interview, "There's country music fans everywhere, that's the great thing. That's what I've loved about it. You can be in this place that feels like another world from where you were the next day." He continued, "Being in Nashville, you learn to write your experience because that's all you really have to contribute. You'll hear that whole story on the record." He also said that now that he's married, inspiration for songs come quickly. When he was single in Australia, that wasn't the case.
On June 8, Evans released his new single, "Day Drunk." For the summer he'll be touring the festival circuit and come September, he'll be on Chris Young's Losing Sleep Tour.
Not only is Evans an up-and-coming star, but he seems perfect for The Bachelorette. Before learning he would be on the show, I myself had never heard of him, not being a country-music listener myself. But the fact that he'll be singing for Becca and a date — and therefore millions of other people — is an awesome opportunity, and I can't wait to see where his career goes after this. If nothing else, I'm sure his relationship with his wife will be great inspiration to Becca and the contestants.