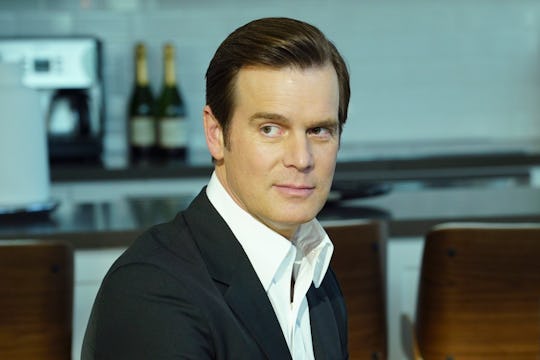 Richard Cartwright/ABC
Who Is Mr. X On 'The Catch'? There Are Many Identities To The Con Man
There is a new crew coming to Shondaland, and they're mysterious, sexy, and downright ruthless. A.k.a., they fit right in to the current lineup of Thursday nights. The Catch, TGIT's newest addition, tells the story of Alice Vaughan, a private investigator at the top of her game, who is conned out of her entire life savings by the man she thinks is her fiancé, but is really a long-haul con man named Mr. X. The mystery behind Mr. X on The Catch pertains to the entire crime that takes place in the premiere episode — Mr. X is the man that Alice is hunting, and also the man she loves. Yes, it is that complicated.
Before Alice learns about the identity of Mr. X, we learn that he has been taunting her and her staff for a while. He's a professional con man, and he doesn't take the job lightly. Instead of doing sloppy jobs, Mr. X is meticulous for details. He even sends a note to Alice and her associates before each con that reads "Are you ready to play?"
Alice, a hungry-t0-win P.I. is always ready to play. But, she's also ready to take Mr. X down. Mr. X has stolen money from her clients, copied files that pertain to top-secret-business-y things, and has managed to screw up a lot of business for Alice and her team. Then, he screws her over.
So, who is this mystery guy?
Chrisopher Hall — or should I say, Benjamin Jones — is Mr. X. The man that Alice has fallen in love with is also the man that is ruining her life. Just like any good con, Alice stepped right into the trap that Christopher (real name, Benjamin) had laid out for her. Even though she's amazing at her job, she didn't realize that she was walking right into a $1.4 million con that would wipe her of her life savings.
The realization that the man she was about to elope with was playing her only inspires the P.I. to work harder to take him down. She realizes that she doesn't know much about the man she was going to marry because he did such a great job at hiding his own personal information, but something tells me Alice knows more than she realizes. Ben is good, but I think Alice is better.
As for Ben's future, if Alice doesn't get him, I wouldn't be surprised if one of his coworkers takes him down. Reggie, Ben's coworker and golf partner, seems to be the only one who is aware of Ben's Mr. X persona. Even Ben's love interest (since Alice was technically "Christopher's" love interest) Margot doesn't know about the Mr. X charade he has going on. Something tells me Mr. X is going to catch up with him and really do some damage, if one of his other personas doesn't manage to do it first.