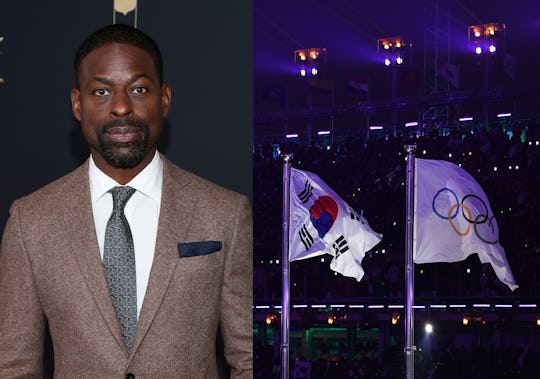 Christopher Polk/Getty Images Entertainment/Getty Images, Harry How/Getty Images Sport/Getty Images
"This Is Us" Star Sterling K. Brown Had People Crying During The Olympics, Obviously
Prepare yourself, This Is Us fans. If you were wondering who is narrating the Opening Ceremony, it's none other than Sterling K. Brown aka Randall Pearson. Yep, it seems like NBC really wants to keep you crying all month long. In fact, people on Twitter are already in tears.
In case you missed it, the Opening Ceremony broadcast kicked off with a inspirational video aptly titled, "Always Start with the Dreams," according to Entertainment Weekly. The seven-minute vid features sweeping shots of Olympians performing impressive feats of strength and skill, snow-covered mountains, and athletes pensively staring off into the distance. Translation: The video is a tearjerker from start to finish.
But because NBC execs are masters at making you cry extra hard, they decided to give Brown the job of narrating the footage. If you ever questioned whether the network's higher-ups are on a mission to make you shed tears all day every day, tonight you have your answer.
In all seriousness though, Brown was an excellent choice to narrate the film. Brown's voice commands attention, but not in a domineering sort of way. It's velvety and soothing. Brown, if he ever so desires, could have a successful career in doing voice-overs.
And as This Is Us fans already know, Brown has the type of voice that can elicit an ocean of tears:
Of course, people are especially triggered by Brown's voice right now because of the recent events on This Is Us. Without getting into any spoilers here, let's just say that it has been a real roller coaster for viewers who love Jack. And that's all viewers, right?
Brown said of the emotional two most recent episodes, according to Entertainment Weekly:
It's sad. It's intense. I'm telling you, it's intense.
Intense, indeed.
The good news is there are plenty of fans out there who were just happy hear Brown's voice during the Winter Olympics opening ceremony.
There was also a rogue fire joke I can't help but include:
Too soon?
Internet reactions aside, I think it's pretty awesome that Brown got the honor of narrating the 2018 Winter Olympics opening montage. Brown joins an impressive list of predecessors, including but not limited to: Giancarlo Esposito (2016 Summer Olympics), James Earl Jones (2000 and 2004 Summer Olympics), and Peter Dinklage (2014 Winter Olympics), according to Elite Daily.
Mark Levy, the co-producer of the stunning film, also found Brown deserving of the role of Winter Olympics narrator. Levy explained, according to Deadline:
Our opening film has become our signature Olympic welcome for the American audience, and it is an honor to have a performer of the caliber of Sterling K. Brown to bring it to life. This year's film centers on the theme of Olympic dreams, and is highlighted by the very best imagery our production team has collected over the months leading up to these Games.
Not to mention, Brown totally fits the message behind "Always Start with the Dreams." At the 2017 SAG Awards, Brown became the first person of color to win an award for male actor in a drama series for his performance on This Is Us, according to The Los Angeles Times. And at the 2017 Golden Globes Awards, Brown was also the first person of color to win a Golden Globe for Best Actor in a TV Drama, according to the Daily Mail.
Yep, it's a safe bet Brown knows a thing or two about achieving your dreams.
Check out Romper's new video series, Romper's Doula Diaries:
Watch full episodes of Romper's Doula Diaries on Facebook Watch.