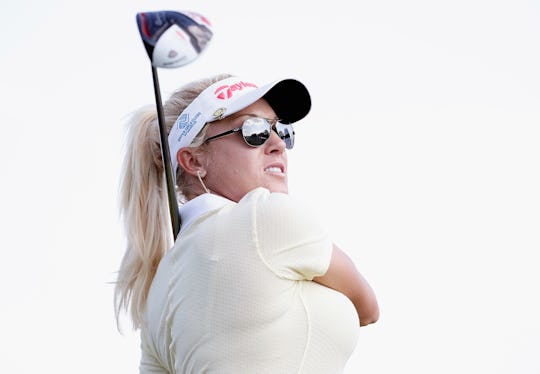 Tom Pennington/Getty Images Sport/Getty Images
Who Is Natalie Gulbis? The RNC Speaker Isn't From The Political World
The GOP itself has called its 2016 Republican National Convention speaker line-up "non-conventional" — and, in a list of speakers released by the GOP this week, they've held up that promise. The list is peppered with notable names, including Trump family members and a few Republicans Donald Trump beat out in the race for the nomination (think Ben Carson, Chris Christie, and Ted Cruz). However, there may also be a few names you don't recognize on that list, and if you aren't a sports fan, you may be wondering who RNC speaker Natalie Gulbis is.
According to The New York Times, Gulbis will be speaking on the third night of the convention. A professional golfer, the 33-year-old native Californian plays on the LPGA tour, which she qualified for at age 14. Usually, however, being good at golf isn't an automatic invitation to speak at a highly political event — so how did Gulbis come to join the RNC list of speakers this year?
As it turns out, Trump and Gulbis go way back. They first met during Gulbis' first Tour Championship, which was hosted at Trump International in West Palm Beach. Since then, they have played multiple rounds of golf together, and Gulbis appeared in the second season of Trump's Celebrity Apprentice. Then, last month, Gublis decided to wade into the political fray and toss in her two cents on Trump, and she had nothing but good things to say about the business mogul.
In a Golf article titled "The Donald Trump I Know, by Natalie Gulbis," Gulbis explained her reasons for liking Trump despite his somewhat controversial run for the Republican nomination. "I realize he has made his share of controversial remarks," Gulbis wrote in June, "but in my experience, I have found him to be gracious, generous and inspiring."
She continued:
I have always found political rhetoric about Trump's misogynistic 'war on women' to be inconsistent with the Trump I know. ... His advice proved invaluable for me in my career, and I owe much of my success to his idea of staying true to my convictions and not being afraid to rock the boat.
Gulbis' shining depiction of Trump last month likely won her some stage time at the RNC this year — but the choice to include her also comes as part of Trump's decision to spice up the convention with celebrities. "It's very important to put some showbiz into a convention, otherwise people are going to fall asleep," he told The Washington Post in April.
For a preview of Gulbis' convention speech, check out her Twitter. She's posted updates hinting at what she'll be espousing at the convention, and it looks like she'll be professing a whole lot of love for Trump.